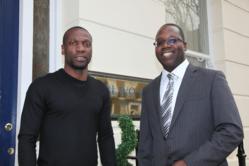 'I am extremely grateful to Blavo & Co for the high standard of professional advice I receive from them which allows me to make
positive and long-term decisions – benefiting and protecting my assets.'
London (PRWEB UK) 18 May 2012
Euro 2012 is on its way, and with it comes the promise of glory for an as-yet unknown group of players. Football is often a game consumed by the immediate spectacle, by the bright lights; but, away from the pitch, the game contains more challenges than ever before.
'In my last few years of working with Premier League players, primarily those from Africa, I have seen the pressures upon them growing steadily greater. Club football is now truly globalised, meaning a fiercer competition for team places, and an expectation of elite performance with little to no time to get used to their new surroundings. Though a career at the peak of the game brings remarkable financial rewards, it becomes harder to reach and remain at that peak with each passing year.
As a lawyer, I have seen my role transform to meet their evolving needs of these players, and to help them to maximise the considerable commercial opportunities that are available to them. There might have been a time when a lawyer simply drafted a signing-on contract for a player, and that was the end of their engagement. But things are very different now: planning is everything.
From the very first day that I start working with a player, I begin thinking about the very last day that he will put on a pair of boots, and beyond. Will he have made and saved enough to provide a platform for whatever he goes on to do next? Will his personal arrangements give him the peace of mind to perform to the best of his ability on the field?
In taking this rounded and long-term view of a player's career, I have found myself going far beyond the simple job description that I had when I first got my practising certificate. I've found myself doing everything from arranging sponsorship deals to personal promotion, holidays, global investments, high fashion, tailoring and picking out the colours of curtains for a player's new house. My working life is as exciting as it is varied; best of all, though, is the quiet satisfaction that I take from seeing a player financially fulfilled at the end of his footballing days, and looking back with him at a job well done.' John Blavo, Senior Partner at Blavo & Co.
'I am extremely grateful to Blavo & Co for the high standard of professional advice I receive from them which allows me to make positive and long-term decisions – benefiting and protecting my assets. John Blavo has been instrumental in assisting me to look at my career as a player and my future after retirement; I feel I am a member of a family rather than a client.'
Lauren Etame Mayer, Ex-Arsenal footballer
'I Thank Blavo & Co for their friendly and professional approach to my needs. Football is a truly global sport. Their turnaround speed and ability to reduce long winded conversations to simple, workable, cost effective advice are fantastic.'
Mr Antonio Flares, CEO and FIFA Agent. Seville, Spain
'I am very impressed and delighted with the well rounded and seamless, professional and friendly service I continue to receive from Blavo & Co Solicitors.'
Mr John Pantsill, Leicester City & Ghanaian International Player.
Blavo & Co is a full service law firm, with seven offices in London, Hertfordshire and Surrey. The firm covers almost every legal area, from commercial law and litigation, family law, mental health law, sports law, employment law, housing law, criminal law and prison law, to name but a few.
Blavo & Co has developed a reputation for being approachable, friendly and for consistently exceeding its clients expectations whilst maintaining ethical and socially responsible standards.