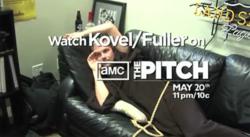 Culver City, CA (PRWEB) May 16, 2012
Kovel/Fuller competes for Campari USA's Frangelico account on AMC's new show, The Pitch, in the episode airing May 20th, 2012 at 11pm/10c. Local listing times may vary.
"The assignment for Frangelico was very challenging and to make it tougher, we had to complete everything in one week," says agency President/Partner John Fuller. " We're used to working under pressure, but add the fact our every move was filmed by the Pitch production team and it made it even bigger stakes for us." Agency consults with monk.
The Pitch offers viewers a gripping, never-before-seen glimpse inside the nation's top ad agencies as they compete in a winner-take-all showdown for a major new piece of business. Viewers take a front-row seat for all the brainstorming, creative thinking and the actual high-pressure presentations that go with pitching for a national account at this top level.
Chief Creative Officer/Partner Lee Kovel remarks, "it's in the agency DNA to step up to challenges, so to compete to win a great account in a very visible venue was something we couldn't pass up."
Kovel/Fuller competes against New York agency, The Ad Store, for Gruppo Campari's legendary liqueur account, Frangelico.
About Kovel/Fuller
Kovel/Fuller is an independent, full-service agency that makes things happen by combining strategically-driven insight, hard work and passion to create advertising that delivers results. We believe in the power of ideas. We believe in the strength of long-term client relationships built on measurable performance and mutual respect. We believe in being entrepreneurial, understanding that the best way to grow our business, is to grow yours.
For more information, please contact: John Fuller, President/Partner, Kovel/Fuller
jfuller(at)kovelfuller(dot)com 310.841.4444