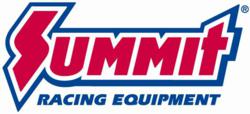 Tallmadge, OH (PRWEB) May 18, 2012
Demon Carburetion's latest carburetor, the Street Demon, is now available at Summit Racing Equipment.
The 625 cfm, vacuum secondary carburetor offers enthusiasts a clean, straightforward design that delivers smooth performance, an amazingly crisp throttle response, and a stable idle. Features include:

Integrated fuel bowl/main body design with the gasket above fuel level
1 3/8 in. primary throttle bores with triple-stack boosters for crisp throttle response, drivability, and fuel economy
Goggle Valve Secondary (GVS™) throttle plate—delivers twice the airflow of the primaries for "right now" power delivery
Secondary air valve control for seamless transition from primaries to the secondaries
One-piece air horn assembly with a single fuel inlet
Integrated 700R4/200R4 transmission kickdown cable mount
Ford automatic transmission kickdown
The Street Demon carburetor comes with an electric choke and fits square-bore and spread-bore intake manifolds. It is available with a ball-burnished or polished main body, or with a composite main body that reduces fuel temperatures up to 20° F.
Customers can get technical and pricing information at SummitRacing.com