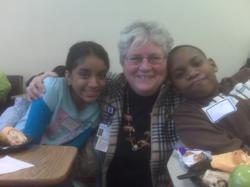 Sister Fran is clear in her thinking on each issue and always speaks on behalf of justice with courage, conviction, determination, action.
Marriottsville, Maryland (PRWEB) May 18, 2012
Sister Alice Talone, CBS, was recognized on April 29, 2012 with the Maxis Award. This award from Villa Maria Academy High School of Springfield, PA, celebrates an alumna of the school who 'has remained faithful to the workings of the Holy Spirit and who has acted with integrity and led by example.' According to the requirements for nominees of this award, she has also 'shown respect for self and others while making a substantial contribution to the community.'
Sister Alice became a Sister of Bon Secours directly after graduating from Villa Maria, then graduated from Bon Secours School of Nursing, earned a bachelor's degree in nursing from the University of Pennsylvania and then a Master's degree in Pastoral Ministry from Trinity College in Washington, D.C. Sr. Alice has cared for countless people as both an acute care and home health nurse, a pastoral associate, hospital chaplain and a parish nurse. She has also served the Sisters of Bon Secours as vocation director and president of their Province. She is currently busy with her ministry as a parish nurse, visiting elderly parishioners who are homebound. In an administrative role, she serves on the sponsor board of directors for Sisters Academy, board of directors for Bon Secours Health System and the steering council for the P. Francis Murphy Initiative for Justice and Peace. When asked about receiving this distinction, Sr. Alice said, "To God be the glory. I am humbled at receiving the Maxis Award!"
Sister Fran Gorsuch, CBS, received the Advocate Award during the Hands of Hope Gala on May 11, 2012 at The Nyack Seaport in Nyack, NY. This annual fundraising event for One to One Learning, an organization developed by the Dominican Sisters of Sparkhill, NY, honors people who have made significant contributions to the community. One to One Learning educates the local community by teaching English to their neighbors. Sr. Fran is the recipient of this award because of her tireless efforts and passion for immigrants and their needs. Sister Ceclia La Pietra, OP, Executive Director of One to One Learning, works with Sr. Fran on the Immigration Coalition of Rockland and says, "[Sr. Fran] is clear in her thinking on each issue and always speaks on behalf of justice with courage, conviction, determination, action." Sr. Ceclia continues to say, "She is knowledgeable about the issues and takes a leadership role in questioning and suggesting ways to work toward a solution that is diplomatic and inclusive. For being a voice for the voiceless in Rockland County, we present Sister Fran Gorsuch with the Advocate Award."
Sister Fran currently serves as Director of Community Initiatives at Bon Secours Good Samaritan Regional Medical Center and also as Vocation Promoter for the Sisters of Bon Secours. In her role at the hospital, she has reached out to the sick and poor, many of whom are immigrants and without health insurance. Sr. Fran also saw a communication need with staff members at the hospital who were not native English speakers. She promoted a program of classes for English as a second language, for their own improvement and in their relations with patients and coworkers. Sr.Fran was also influential in initiating the Spirit of Rockland, a new center for victims of sexual and domestic violence, child abuse, elder abuse, services for people with special needs and victims of violence to the immigrant population. The Spirit of Rockland operates under the auspices of the district attorney's office of Rockland County, in partnership with Good Samaritan, Rockland Family Shelter, Child Protective Services and other agencies. She is the Sisters of Bon Secours representative on the board of directors of UNANIMA International, a non-governmental organization at the United Nations committed to stopping the demand for trafficking of women and children, justice for immigrants and refugees and issues around water and the rights of all human beings for access to water. In her role as Vocation Promoter she extends the outreach to young Catholic women who may be considering religious life by networking with campus ministry groups and parishes. She also coordinates the annual Project Good Help volunteer event each summer. Young women come to work side-by-side with the sisters within inner city Baltimore to help the underprivileged during this short-term service project.
Sister Fran also gives time by serving on the board of Catholic Community Services of Rockland Co., the board of directors of Bon Secours Good Samaritan Hospital Foundation, the Bon Secours New York Health System board of directors, the Immigration Coalition of Rockland County and the Healthy Priorities Committee of the Rockland County Department of Health.
About the Sisters of Bon Secours: As an international congregation of Catholic sisters they have long had a heart for providing healthcare, social services, spiritual comfort, and education to disadvantaged communities since their inception in 1824 when they nursed the sick in their homes. Today, their approach to caring for all of creation equips the Sisters of Bon Secours to spread holistic wellness and God's love throughout the four corners of the world. For more information on discerning your vocation to become a nun, please visit http://BonSecoursVocations.org, email: CBSVocations(at)bshsi(dot)org or call 410-442-0267.