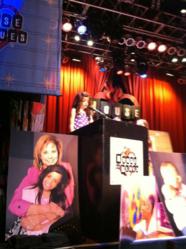 Life will reward you if you just do the right thing, even the hard & painful. I'm going through tough times with all my surgeries. I feel left out.
Painesville, Ohio (PRWEB) May 29, 2012
The past several months have brought huge smiles and tears to several local charities and non-profits in the Northeast Ohio area. The law firm of Dworken & Bernstein Co., L.P.A., located in both Painesville and Cleveland, Ohio has continued to use the cy pres doctrine in all of their class action settlements. Several area charities have greatly benefited from the work of Patrick Perotti. Recently, the American Heart Association received $50,000 and just last week, the Pediatric Plastic Surgery Department of University Hospital's Rainbow Babies & Children's Hospital received $250,000 to help children who have severe facial anomalies as a result of birth defects or accidents. Partner Patrick Perotti and Iraqi burn victim Teeba Furat Marlowe presented the check to Dr. Arun Gosain, Vice Chairman, Department Plastic Surgery, UH Case Medical Center Division Chief, Pediatric Plastic and Craniofacial Surgery, UH Case Medical Center and Mrs. Patty DePompeii, interim President of Rainbow Babies & Children's Hospital. Teeba has just undergone her 16th surgery at Rainbow for burns sustained when she was only 19 months old. Several more charities have already been selected and slated to receive funds from upcoming settled cases, including Lake Erie College who this past weekend, received a check for $68,750.
To learn more about cy pres and the efforts of Dworken & Bernstein Co., L.P.A., log onto their website at http://www.ohiolawyersgiveback.org.
Dworken & Bernstein is the largest law firm in Lake, Geauga, and Ashtabula Counties with 26 attorneys and a staff of 65. Dworken & Bernstein offers a full range of legal services for businesses, individuals, and families in litigation and transactions with offices in Painesville and downtown Cleveland.
Offices are located at 60 South Park Place, Painesville, Ohio 44077, (440) 352-3391 and 55 Public Square, Suite 950, Cleveland, Ohio 44113 (216) 861-4211. Visit http://www.dworkenlaw.com.
For more information, contact Barbara Marlowe at (440) 352-3391 or bmarlowe(at)dworkenlaw(dot)com.