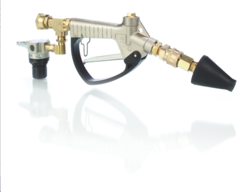 The customers, shop owners, and technicians will all save money in the long run by using this tool.
Denver, Colo. (PRWEB) May 16, 2012
Gates Corporation, a leading manufacturer of industrial and automotive products, today announced the introduction of the POWERCLEAN™ Flush Tool. Gates has also embarked on an industry-wide cooling system maintenance and awareness campaign.
The POWERCLEAN Flush Tool uses patented pulsating technology, clean water, and compressed air to scrub deeply into cooling system corners and crevices, dislodging more debris and accumulated sludge than a garden hose or evacuation flush. Flushing with the POWERCLEAN Flush Tool increases cooling efficiency, produces more heat for winter driving, and lengthens water pump life. In turn, this helps reduce warranty claims and increases customer satisfaction.
Gates offers the tool to address the need for a more thorough way to flush radiators, engine blocks and, most importantly, heater cores. Extensive chemical laboratory testing of coolants and their behavior on water pumps showed that improper cooling maintenance adversely impacts the water pump. Cross contamination of coolant and mixing of coolant chemistry can lead to premature and catastrophic water pump failures.
Field testing also showed that conventional flushing methods do not remove enough solid contaminants, which are held in suspension or have fallen out of suspension and remain in the system. These solids damage the water pump seal, the most critical component.
Tests by the American Society for Testing Materials (ASTM) as well as Gates research show that water pump surface material loss does take place in the system and is not limited to the water pump. This material loss is harmful to water pump seals and results in compromised mating seal surfaces. Over time, all metal components in the cooling system can succumb to premature failure.
Results from testing on various applications proves the POWERCLEAN Flush Tool can clean cooling systems more thoroughly than conventional flushes while preventing damage and ensuring warranty coverage on replacement parts, including water pumps.
"I never would have thought something so simple could change my mind about the way we service cooling systems on today's vehicles," said Craig Wallace of John's 4x4 Center in Boulder, Colo. "The customers, shop owners, and technicians will all save money in the long run by using this tool."
Gates also launched an awareness campaign to educate industry professionals on the importance of proper cooling system maintenance. Together with professional installer Donny Seyfer of Wheat Ridge, Colo., the campaign provides the video and training tools needed to educate today's technicians on efficiently cleaning cooling systems without damaging the water pump and other components.
To learn more, watch the Gates Cooling System Flush video: youtu.be/n6TVKwiINQ4.
For more information about Gates Corporation, please contact Mari Jane Panek at 303.744.4533.
About Gates Corporation
Gates Corporation (gates.com) is one of the world's leading manufacturers of industrial and automotive products, systems, and components with operations in 30 countries. Gates maintains sales and marketing operations in every major industrial and automotive market, including North and South America, Europe, Asia, Australia, and the Middle East.
Gates is part of the Industrial & Automotive group of Tomkins Ltd., which is owned by a consortium comprising Onex Corporation and the Canada Pension Plan Investment Board. Tomkins enjoys strong market positions and technical leadership across all of its business activities and owns some of the best-known brands in their respective markets.