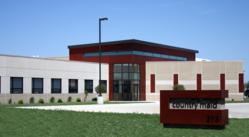 We're extremely happy with our Brivo system. We feel by looking for a partner, instead of a provider, we've achieved what we were looking for. The system does everything we've asked and more. Marc Banwart, Systems Integration Specialist
Bethesda, MD (PRWEB) May 16, 2012
Brivo Systems LLC, leader in cloud applications for security management, today announced that Country Maid Inc., manufacturer of the Butter Braid® braided pastry product line, has installed Brivo ACS WebService throughout its new production and administration complex, located in West Bend, Iowa. Strauss Security Solutions is the dealer and installer for this growing project.
What started 21 years ago as a pastry-making project to help a couple with six children make it through the Farm Crisis has now grown into Country Maid, Inc., a successful manufacturing and service company with approximately 70 independent dealerships in 44 states.
Country Maid recently completed a major expansion, moving into a new 28,000-square foot production facility, a 15,000-square foot headquarters building, and a new warehouse. During the planning and construction, Marc Banwart, Systems Integration Specialist, was keenly aware that the new facilities would require upgraded security in order to successfully comply with FDA regulations and the requirements of the Bioterrorism Act.
For access control in the new buildings, the project architect, guided by Banwart's requirements, brought in three providers to demonstrate various access system options. "Strauss Security Solutions came out on top with flying colors," recalled Banwart. "They introduced us to the Brivo system, which gave us a hosted solution and enabled us to put access control exactly where we needed it. With Brivo, we had no servers, no software; they handled that—that was very appealing to us."
As someone with IT expertise and a good amount of IT resources, Banwart and his team did consider an in-house solution; however, "We weighed the pros and cons of hosted. One thing I think we do really well is decide where we are going to stay in-house and rely on our own resources, and when we're going to look for the right partner to provide the solution to get us to the level we want to be. We felt Brivo was that partner."
In choosing a new access control system, Banwart wanted to provide all staff and contractors with key fob access and to achieve a level of control and visibility to collect data on everyone's movement within the facility to both ensure FDA compliance and to improve operations. Also, with Country Maid's impressive growth, the system would have to provide flexibility and scalability. Another important advantage is the Brivo system's ability to integrate with video surveillance, which the company plans to add in the near future.
"We wanted the flexibility to manage multiple groups and schedules—our standard production workers, office staff, evening sanitation crews, and a host of other groups. It's nice to be able to see where people enter the facilities, where people are going, are they trying to access a management office. We are able to audit where people go throughout the buildings and throughout the day. The FDA and the Bioterrorism Act require us to know who has been where and at what times," explained Banwart.
At this time, Country Maid is managing 35 doors and 10 door-like access points, such as roll-up doors and freezers. For the latter, Banwart and staff monitor if a delivery door, emergency door, or a freezer door is open or shut. Banwart is managing access for approximately 100 employees and contractors divided into 17 groups, each with unique privileges based on areas and time periods for approved access. Only eight of the 45 doors are external, the majority are internal doors and access points.
After initial installation of the Brivo ACS WebService system, Country Maid has scaled to add more internal doors at the HQ, as well as adding the warehouse to the system. Banwart related that as the company expands, currently un-used office space will be brought on-line and more doors will be added to the system.
Banwart uses the system's report function on a regular basis both for his own information, but also to supply information to HR and plant management. "We monitor where staff enter the buildings each day, if they using the correct doors, and how they move around the facilities in carrying out their jobs. If there is a pattern that we need to change or improve, we can talk to that employee to improve operations and productivity. We monitor people to help them do their jobs better."
"We're extremely happy with our Brivo system," said Banwart. "We feel by looking for a partner, instead of a provider, we've achieved what we were looking for in access management. We're very happy with where we're at. The system does everything we've asked and more, and we really feel that we can grow and scale and do even more with it. One clear indicator of success is that over time I spend less and less time with the interface, just maintenance now, yet I'm extremely confident that everything is working correctly and I can verify this through the reporting—all is correct or I simply tweak it and everything flows nicely."
For more information on ACS WebService, contact Brivo toll–free at 1-866-692-7486, option 1 or email sales(at)brivo(dot)com.
About Brivo Systems
Brivo Systems LLC is a SaaS-based security management systems provider for organizations that need to protect and remotely monitor buildings and perimeter entry points. When introduced in 2001, Brivo's Web-hosted physical access control system was a unique solution—after a decade of evolution and innovation, it still is. Brivo's groundbreaking physical access control and video solutions empower organizations by giving administrators real-time device control, including immediate visibility of security events and video in local or remote facilities—anytime, anywhere.
The company's innovative, secure, and open architecture-based products and services enable businesses to protect people and assets, comply with regulations, and improve business operational efficiency. These scalable systems—whether standalone or appliance-based or cloud-based—offer a solution for every type of business. Brivo's security management products are a market-proven fit for commercial office buildings, warehouses, retail stores, manufacturing plants, and sensitive areas, such as server rooms or R&D labs, where real-time control and accountability of entry are important.
With headquarters in Bethesda, MD, Brivo is a wholly-owned subsidiary of The Duchossois Group, a privately held holding company headquartered in Elmhurst, Illinois, which also owns other industry leaders such as AMX, The Chamberlain Group, and Milestone AV Technologies. Duchossois also holds strategic interests in Churchill Downs, Inc., and a number of other diversified businesses.
For media queries:
Bruce J. Doneff
Public Relations
(843) 476.3022
bruce(dot)doneff(at)brivo(dot)com
For Brivo Systems, please contact:
Rajeev Dubey
Director, Marketing
301.664.5251
rajeev(dot)dubey(at)brivo(dot)com
###