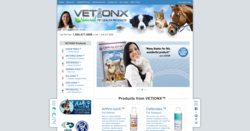 They provide the optimal choice for those pet owners that are faced with situations they feel are beyond their control and help them get back to building a lasting relationship with their pet
Grand Rapids, MI (PRWEB) May 16, 2012
VETiONX recently announced they will be releasing their "Chillout Chews" in Spring 2012.
Pet owners can look to "Chillout Chews" to help support their pet's calm mood, especially during the more stressful moments like unexpected visitors, thunderstorms, environmental change, or prolonged time alone. "We are really excited to release Chillout Chews," said CEO and President Albert Duoibes. "They provide the optimal choice for those pet owners that are faced with situations they feel are beyond their control and help them get back to building a lasting relationship with their pet."
"I am truly excited that we will be offering a product that provides pet parents a natural remedy for pet anxiety," said Behavioral Modification Specialist and Pet Trainer, Victoria Swanson. "What's more, Chillout Chews provide much needed support for the pet, a factor that will make every parents relationship with their pet even more fulfilling."
VETiONX features a line of safe and effective pet health care products for all pets and animals, including dogs, cats, horses, birds and reptiles. The company has been manufacturing and selling OTC pet health products since 2005. Its headquarters are located at 4460 – 44th St. SE, Ste. C 600, Grand Rapids, MI, 49512.
At VETiONX, we believe in helping your pet restore natural balance. By providing valuable veterinarian health coaching, training, and unique homeopathic/oligotherapeutic solutions, we help pets around the world lead long, healthy lives, naturally. Interested consumers can visit the VETiONX website at: http://www.vetionx.com/. Customers are also invited to visit the company's VETiONX Facebook page and sign up for updates via Twitter.
If you'd like more information about our sister company, HelloLife, or our products, visit the website at http://www.hellolife.net.