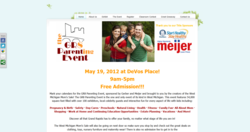 They give us the opportunity to stay involved with our community and they facilitate access and interaction with the amazing residents of our hometown, Grand Rapids."
Grand Rapids, MI (PRWEB) May 16, 2012
Today, HelloLife announces they are sponsoring, and will have a booth at the GR8 Parenting Event in Grand Rapids, Michigan, on May 19th, 2012 at Devos Place.
The HelloLife booth will include interactive kids displays, a live cooking demonstration by local favorite Sue Chef, an informative presentation by Dr. Jeffrey Chamberlain entitled "Rethinking ADHD," and plenty of vital information on HelloLife's products and services.
"We love being involved with these local events," said CEO and President Albert Duoibes. "They give us the opportunity to stay involved with our community and they facilitate access and interaction with the amazing residents of our hometown, Grand Rapids."
Hellolife.net, or the Smart Living Network, is a social outreach network by HelloLife LLC, created for the sole purpose of helping users to intelligently live long and fulfilling lives. Through a massive amount of informative resources and social outlets, the Smart Living network offers each unique user an equally unique path to follow to accomplish their smart living goals.
HelloLife is committed to providing safe relief, nutritional support and education for healthy lifestyle choices. Its headquarters are located at 4460 – 44th St. SE, Ste. C 600, Grand Rapids, MI, 49512. Our products are available to consumers via retailers, health care professionals and direct mail. For more information about the company or our products, visit our website at: http://www.hellolife.net.