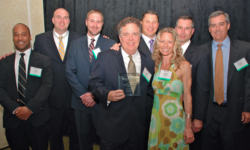 Richmond, VA (PRWEB) May 17, 2012
Whitlock competed against a host of IT and technology firms and came out on top last week at a Gala in downtown Richmond, VA. The company received the Technology Builder Award from RichTech, the technology consortium for central Virginia with over 150 member companies.
This award was created to recognize "the local technology company delivering solutions and/or services to external clients that build capacity and increase operational efficiency." There were more than 600 people in attendance at the event, where John Whitlock accepted the award on behalf of the company. Whitlock is the first AV company to win an award in the IT space in Richmond.
***
Whitlock is a global leader in AV integration, videoconferencing solutions and managed services. The company helps clients maximize, standardize and protect the value of their audiovisual technology investments. Whitlock has over 25 locations across the U.S. and is a founder and partner in the Global Presence Alliance, which provides systems integration, standards, quality control and support for audiovisual services worldwide.