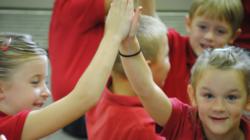 The Common Core implementation strategies that are outlined in the footage will help any educator, at any level, align to the Common Core Standards and elevate student achievement in the process
Salt Lake City, UT (PRWEB) May 17, 2012
On the heels of a state-wide mandate to improve student performance, educators at the Indian River School District in Delaware began to implement the Common Core Standards, and now, months later, their efforts are already meeting with success.
"Delaware is really on at the vanguard of the Common Core movement," says Curtis Linton, Vice President of School Improvement Network. "The Common Core Standards implementation work at Indian River School District highlights this fact. The Common Core implementation strategies that are outlined in the footage we have prepared will help any educator, at any level, align to the Common Core Standards and elevate student achievement in the process."
A film crew from School Improvement Network has documented much of Indian River's Common Core Standards implementation, and has just released over two hours of instructional footage, featuring the strategies that have made Indian River a Common Core success story.
The video program spotlights Indian River School District's Common Core Standards implementation at a district, school, and classroom level. The program revolves around Indian River's use of Professional Learning Communities, informal observations, and job-embedded professional development to ensure the Common Core is integrated with rigor.
To get the Indian Rivers Common Core Standards implementation program, sign up for a free 30-day trial of Common Core 360.
To learn more about the Common Core, and how to crosswalk current standards and curriculum into the Core, educators are invited to attend the School Improvement Innovation Summit, and the Common Core Institute, both held this summer in Salt Lake City, UT.
About School Improvement Network
Founded in 1991 by teachers, School Improvement Network provides comprehensive, research-based, online professional development anytime, anywhere. As the home of The Video Journal of Education, online professional development platform PD 360, Observation 360, the Learning 360 Framework, Equity 360, and Common Core 360 (a Common Core Standards implementation tool), School Improvement Network resources focus on the most relevant topics, feature the top experts, and show educators how to put theory into practice. School Improvement Network works with thousands of schools and districts in every state and around the world and has visited over 3,500 classrooms to document best practices in action. Learn more at http://www.schoolimprovement.com.
About Common Core 360
Common Core 360 answers the questions that 3.4 million teachers are asking about how to make the Standards work in their classroom every day. Common Core 360 gives administrators, teachers, and instructional coaches the necessary resources and training to achieve Common Core Standards implementation and turn state standards into measurable student achievement. The unique Common Core training, expert analysis, and real classroom examples of putting the Standards into practice will empower any educator to implement the Common Core Standards. Learn more at http://www.schoolimprovement.com/products/common-core-360/.
###
School Improvement Network, PD 360, and their respective logos are trademarks of the School Improvement Network. All other trademarks and registered trademarks are the property of their respective owners.
Press Contact:
Duane Sprague
School Improvement Network
801-758-9546
duane(dot)sprague(at)schoolimprovement(dot)com

Common Core Implementation