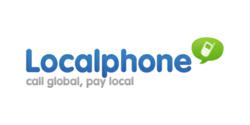 We have brought Localphone to a wider audience and now it is a truly global app.
Sheffield, United Kingdom (PRWEB) May 17, 2012
Localphone's new Android app is free to download from Google play. Previous versions of the Android app used its Local Numbers service to make international calls. Localphone customers in countries where they can't call with Local Numbers such as India, Pakistan and Bangladesh, are now able to download the free app and make calls to anywhere in the world.
Calls will be made using the user's Internet connection. The app will use WiFi or 3G depending on the user's settings. All the user will pay to call is Localphone's low rates, which start from just 0.5¢ per minute.
As well as making the Android app available to all its customers worldwide, Localphone has also added a new 'Share' functionality into the app. This allows customers to recommend Localphone to their friends straight from the app via email, SMS and social networks. Customers then receive free bonus credit for each friend they referred who signs up and adds credit with Localphone.
The CEO and founder of Localphone, Paul Cusack, commented, 'We have brought Localphone to a wider audience and now it is a truly global app. We are continually developing our apps and adding new features so I look forward to announcing these in the near future.'
Download the Localphone Android app today.
Features of the Localphone Android app include:
*** WiFi/3G calls mode ***
Calls are made using WiFi or 3G.
*** Share and earn ***
Users can earn free credit when they refer friends.
*** Keep in touch by SMS ***
Users can send international texts to any number at low rates.
*** Contacts on the go ***
Users can manage their Localphone contacts through their phone and import their existing numbers.
*** Check rates ***
Users can check call and text rates to any number or country.
*** Stay in credit ***
A real-time account balance is displayed so the user knows exactly how much credit they have.
Localphone has been awarded Highly Commended for Best Consumer VoIP at the ITSPA Awards 2012. Founded in 2007 and headquartered in Sheffield, United Kingdom, Localphone has quickly grown to become one of the world's leading providers of cheap international calls with call rates up to 88% cheaper than the competition.
If you would like more information about this topic, or to schedule an interview, please call the press room at +44(0) 114 3190538 or you can email press(at)localphone(dot)com