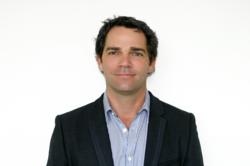 (PRWEB) May 16, 2012
CP+B announced today that Mason Reed has been promoted to the role of EVP/Managing Director of the agency's Los Angeles office. Reed, a 10-year veteran of CP+B, has worked with a variety of agency clients over the years including Virgin Atlantic Airways, Hulu, Slim Jim, Method home cleaning products, Nike and Burger King. He was most recently EVP/Director of Business Development where he was instrumental in the Under Armour and Applebee's wins. Reed will retain his new business duties while also overseeing the agency's Los Angeles activities.
"Mason has been a significant presence in our shop and has helped shape our culture over his ten years with us. We look forward to watching what he'll certainly bring to our west coast office with his creativity, skill and smarts," said Jeff Steinhour, President, CP+B.
CP+B's LA office oversees the creative output for Old Navy and portions of the agency's Microsoft work, as well as a host of other clients. In February of this year, the agency moved to new, significantly expanded offices. Always an outpost for creative and production, the LA office is becoming home base for a growing number of CP+B thought leaders including VP, Interactive ACD's Andy Pearson and Tim Blount, VP, Creative Director Andy Ure, and Creative Director Matt Denyer. Reed joins EVP/Director of Interactive Production, Ivan Perez-Armendariz and Executive Creative Director, Jason Gaboriau in overseeing the LA office.
About CP+B:
CP+B, a member of the MDC Partners network, has a client list that includes Microsoft, Unilever, Kraft, Phillips, Coke Zero, American Express, Domino's Pizza, MetLife, Old Navy, Applebee's, Discovery Networks, SAS, Arby's and Best Buy. CP+B has more than 850 employees worldwide, collaborating across six factories: Boulder, Miami, Los Angeles, Toronto, London and Gothenburg, Sweden. The agency is one of the most-awarded agencies in the world, having been named "Interactive Agency of the Year" three times at the Cannes Lions International Advertising Festival, "Agency of the Decade" by Advertising Age and "Agency of the Year" 13 times in the trade press. They also have the unprecedented distinction of being the only agency to have won the Grand Prix at Cannes in every major category.
Please visit us: http://www.cpbgroup.com
Follow us on Twitter: http://www.twitter.com/cpbgroup
Join us on Facebook: http://www.facebook.com/cpbgroup