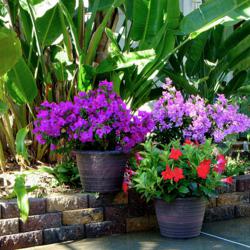 Vibrant tropical colors influence home décor and gardens this year, making it easy to add intense color throughout the garden, deck and patio
Laguna Hills, CA (PRWEB) May 17, 2012
Americans are transforming their homes and backyards into relaxing and stylish staycations, drawing inspiration from the bright colors and laid-back attitudes of the tropics.
New Bloomtastic! and Patio Tropics! tropical plants from Hines Growers, offer immediate color and impact for any sized garden, deck, porch or patio. Simply leave them in their pretty pots to add lush flowers and foliage to your outdoor spaces or grow them throughout your landscape for a pop of vivid color.
"Vibrant tropical colors influence home décor and gardens this year, making it easy to add intense color throughout the garden, deck and patio," says Doug Jimerson, editor-in-chief of gardening for Better Homes and Gardens.
Whether making over a deck, patio or porch, add tropical flair by following the 'three P's' of outdoor design: plants, paint and punch.
Plants. "Don't be afraid to mix plants, colors and textures when decorating outdoor spaces," Jimerson says. He recommends going big and bold with new tropical plants that are easy to grow, like the colorful hibiscus in dozens of bright tropical colors that add instant impact.
"Whether you're planning a party or want a retreat, sun-loving hibiscus gives a blaze of color. Cut hibiscus flowers floating in water make an easy centerpiece, and the blooms are perfect garnishes for elegant al fresco dining," he explains.
One of the best varieties is Bahama Bay Hibiscus 'Amazon Queen' with huge blooms that match the Pantone Color Institute® color of the year, Tangerine Tango. Pair it with the new, bright yellow Bahama Bay 'Enlightenment' hibiscus and add some tiki lights for a festive luau.
Cool new desert roses like Adenium Kissable Pin k, Red and Blush come in eye-popping colors and have a unique bonsai-like appearance and can be overwintered indoors.
For a garden party in a pot, the new Bougainvillea Garden Party® Patio Tree's multi-colored flowers bring a tropical topiary appearance to gardens, entryways and outdoor living areas. To see a full range of tropical plants and more inspiration, visit http://www.hinesgrowers.com
Paint, one of the easiest, most economical ways to create a tropical feel inside or out.
Margie Grace, APLD, of Grace Design Associates, says, paint more than just walls. "Mix it up. Paint chairs Caribbean blue, containers coral red and tables, sunshine yellow. Just remember tropical colors don't fade into the background, they make a vibrant statement," Grace explains.
A key lime or ocean blue accent wall on the deck or patio instantly transforms a space. Carry the tropics inside with a less saturated color like a warm mango tone or pair a rich, intense color with neutrals.
Then turn up the heat with Hines' new Bambino and Babybino bougainvillea for a blast of color and gorgeous blooms.
Punch. Tropical patterns and fabrics bring flexibility and endless possibilities. Cushions, throw pillows and tropical inspired linens add punch to your outdoor décor.
Use a single pattern or mix things up with a variety of prints and stripes, including floral, greenery, and ocean and beach elements.
Then kick it up a notch with a new Black Hawaiian Spider Lily, Crinum Purple Dream. "Crinum's exotic-looking dark purple almost black foliage and deep pink flowers on dark red stalks is trendy and looks nice mixed in the landscape or in containers," says Jimerson.
By following these three P's, a conventional backyard easily can be transformed into a lush tropical paradise.
For more information, visit http://www.hinesgrowers.com.