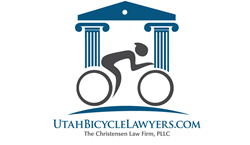 Draper, UT (PRWEB) May 16, 2012
The 2012 Utah Bike Summit, held in Ogden, UT on May 4, 2012 and sponsored in part by the Utah Bicycle Lawyers at the Christensen Law Firm, brought together some of Utah's top biking leaders and planners. The intent was to state the current condition of biking in Utah and to identify certain areas for improvement. These objectives were admirably met and the overall feeling towards the end of the event was of success, progress, and motivation for future improvement.
Although there were too many speakers to outline here, a few will suffice. Michael Allegra, UTA's general manager, summarized the UTA's history, pointing out that when he first started, there were only 40 buses in the UTA's fleet; currently, there are more than 700. The progress of public transportation in Utah has grown significantly in a short amount of time. The new Front Runner line and TRAX lines are two good examples of this progress. A few new TRAX lines have been planned for the upcoming years. Two examples include, a line running from Salt Lake City to the airport and a continuous line running from Brigham City to Payson. All this new public transit has, interestingly enough, created an increased desire for more. Bike racks have now been installed on all buses because of a growing demand; more people are riding their bikes to either commute to work and around town or to do so for exercise and fun.
Another speaker was Jeff Stenquist of Draper. He added to what Michael Allegra said by pointing out the many trails and pathways that serve as major arteries for commuters and recreationists. Oftentimes, the pathways run adjacent to TRAX lines and bus routes. He mentioned how an increasing amount of individuals desire to commute by bike rather than by car. The majority of commuters own cars and yet they choose to ride their bikes to work.
The upward trend of bikers on the roads has two potential consequences. The first is local bike shops are booming with new buyers. The second is that business owners are beginning to recognize the value commuting by bike has for their employees. Outside of the obvious economic benefits to local businesses, commuting by bike gives the rider exercise and more energy, self-confidence, and overall better health. Because of these added benefits, business owners are starting to provide incentives for their employees to ride to work, which include gratis bike race entry fees; for larger firms, bikes to be ridden at work from building to building; and award programs that include winning bike jerseys or cash prizes.
The increased interest in biking has other consequences. Lori Harward, who represents Utah's New High School Mountain Biking League (NICA), said that the entrants into the league have doubled each year of its existence. That is a lot of interest! Another consequence of so much interest is the added congestion on the road. Keri Gibson, from the Utah Highway Safety/Road Respect Campaign, talked on the importance of respect that motorists and cyclists should have for each other. There is too often disrespect for one another, which leads to accidents, some of them involving fatalities. This is unacceptable. More patience and respect simply equates to lives being saved.
There are many motorist and bike laws that have been instituted for the safety of commuters; truth be told, it is the cyclist who loses in a match up with a car. The 3-foot law was scrutinized during the Summit, indicating its strengths and weaknesses. The law states that motorists must pass with a distance of at least 3 feet between themselves and the cyclist, and at the same time states, "unless you can do so with reasonable safety." This negates the purpose of the law itself.
The Christensen Law Firm understands the importance of the law, even with its flaws, and its ability to protect the rights of individuals. They chose to sponsor the Utah Bike Summit in order to help cyclists and motorists alike understand their rights and obligations if an accident does occur.
Although there is room for improvement in the biking realm of Utah, the Utah Bike Summit was a step in the right direction. It is these kinds of events that give real and true hope for a better and safer state.
###
The personal injury attorneys at the Christensen Law Firm represent clients who have been injured in car accidents, bicycle accidents, dog bites, or a client who has lost a loved one in a wrongful death. They have won cases amounting to millions of dollars, which have ultimately enabled those who have been injured to better deal with the effects of personal tragedy that accompanies wrongful injuries. They have also written multiple free accident books, covering in great detail how best to handle a personal injury and the repercussions therefrom. If you have been injured or someone you know has suffered harm because of another's negligent actions, call the Christensen Law Firm today at 801-506-0800. They will personally speak with you as your personal injury attorney. Do not wait. Take advantage of their services and expertise.
The Christensen Law Firm:
Main Office -- 12357 South 450 East #3, Draper, UT 84020 -- (801) 506-0800 -- Fax: (801) 506-0801
Utah County Office -- 584 S State Street, Orem, UT 84058 -- (801) 224-2999
Davis County Office -- 503 West 2600 South #200, Bountiful, UT 84010 -- (801) 294-9500