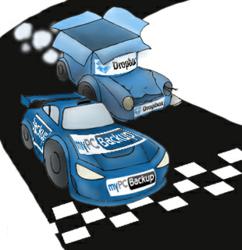 (PRWEB) May 31, 2012
Dropbox was one of the first companies to offer online storage space for sensitive data. Today many other choices are available. The more popular cloud computing becomes, the higher the demand for companies offering improved services. Deciding which service provider is best suited for a particular need can be a daunting experience. Many providers offer similar or more attractive benefits, with competitive plans, prices and security. Due to new recent online backup providers, FileStorageOnline's consumer watch expert, Yuval Fine, decided to organize the most current information available nowadays. After a few months of research Yuval Fine has completed a list for comparing and reviewing 5 Dropbox's alternatives for 2012.
Common Issues Important to Users:
Dropbox:

The price. According to tech forums (such as Tech-Forums.net), many customers find the storage space and other services offered by Dropbox much too expensive.
Limited space. With the price of storage space being so high, many users can't afford to back up as many files as they would like.
Security issues. Dropbox has been known to have lapses in security, allowing access to member accounts without a password such as in June 2011, whereby Dropbox suffered such a breach.
Decryption. Dropbox claims that none of their employees have access to customer files. However, in their disclaimer they state that files can be decrypted, if at any time any government official requests access to a member's personal or business data. This means that employees must have ways of accessing confidential files.
Extensive detail and discussion are available on Filestorageonline.net/dropbox-alternatives/.
FileStorageOnline's Choices for Dropbox Alternatives:
1. Mypcbackup – MyPCBackup offers unlimited storage. Customers can store any file types in an unlimited amount of storage space. Currently file size limit has been increased to 5GB. Automatic updates run seamlessly behind the scenes keeping all data up-to-date. Faster uploads and downloads are now available of up to 10-15 times faster. Their changes include a new version for both Mac and Windows software. MyPCBackup uses the highest encryption available, so even if a transfer is intercepted, a hacker will not be able to see any private data without the correct password. Unlike Dropbox, MyPCBackup has not had any reports of security breaches. With an easy to use interface and automated backup, this award winning provider is rated number 1 in cloud storage. Visit http://filestorageonline.net/mypcbackup-review/ for an in-depth review.
2. Zipcloud – ZipCloud offers unlimited storage plans for less than what Dropbox charges for 50 GB. That is only one of the reasons why this provider is rated as number 2. ZipCloud uses the most powerful encryption available to ensure all files are safe and secure. Along with the usual files, ZipCloud also backs up Outlook emails. ZipCloud provides step-by-step tutorials to guide new customers through the setup process and is always available to all customers should any questions arise.
3. Mozy – Mozy is an industry leader and considered by many consumers as the most trusted online backup service provider. The company offers 50 GB of storage space for $5.99, nearly half of what Dropbox charges for the same amount of space. Members have access to live support and all plans include up to three free months of service per year. The flexible plans can be altered to allow for changing needs, such as adding more computers to the account or more storage space whenever the need arises.
4. SugarSync – SugarSync offers free plans for 5 GB of storage space, more than double to what Dropbox offers with their free membership plan. All plans have a free trial period allowing potential customers the opportunity to become familiar with the service and features before committing to a paid plan. The fully customizable service allows users to set certain files as editable by anyone or as read-only. Members have complete control over who may or may not access personal data.
5. LiveDrive – LiveDrive offers unlimited space for $7.95 per month, while Dropbox plans start at $9.99 for 50 GB. Other LiveDrive plans with more features are also available. The system is considered easier to set up and install than other cloud storage programs. The company offers a free trial, allowing customers hands - on experience before committing to a paid plan.
To learn in depth about FileStorageOnlin refer to http://filestorageonline.net/.