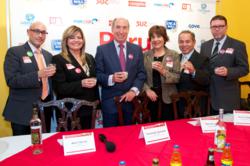 Newark, NJ (PRWEB) May 17, 2012
The first annual Peru to the World Expo (http://www.perutotheworldexpo.com) will make its debut in the U.S. in June 2012 and will feature a Peruvian gastronomic fair with star chefs, an international food and beverage seminar and an investment forum.
Launched by Peru Agribusiness Association, the inaugural event will take place in Newark, New Jersey from June 15-17th with the goal to promote Peruvian products and gastronomic tourism to Peru among consumers, buyers, distributors, investors and others. The event will feature tastings, speaking sessions and cooking demos by well-known Peruvian chefs including Emmanuel Piqueras and Marita Lynn.
A kick-off to the event was held at the Peruvian consulate in Manhattan on May 15th with event sponsors that include Goya, Inca Kola, Sur Peru, Cerveza Cuzqueña, PDR CHB, Peru Magic and CostaMar Travel.
"Peru to the World Expo is a wonderful way to showcase the rich offerings of the country to prospective partners and visitors," said Fortunato Quesada, Peruvian Consul. "The event will offer a unique cultural experience and opportunity for everyone—from foodies and families to investors and entrepreneurs."
Showcasing Peruvian culinary talent currently living in the U.S., the Gastronomic Fair will consist of a general tasting open to the public, VIP gala dinners and culinary competitions by leading Peruvian chefs, Emmanuel Piqueras and Marita Lynn for the Best Ceviche and Best Quinoa Dish and Melanie Asher for Best Pisco drink. Featured topics at the event will include "Everyday cooking with Peruvian Flair" and "Quinoa, the Grain of the Gods." The fair will take place at the Robert Treat Hotel in Newark, New Jersey on Friday, June 15th from 2-8PM; Saturday, June 16th from 11AM-9PM; and Sunday, June 17th from 11AM to 8PM. General admission tickets are $20; VIP tickets are also available.
The fair will also promote fresh Peruvian fruits and vegetables including aguaymanto, trucha, organic coffee and quinoa to name a few.
"Peru continues to grow its incredible offering of premium food and beverage products and draw international attention to its gastronomic achievements and innovations," said Melvi Davila, President of the Peru AgriBusiness Association. "This is the ideal time to launch this event in the U.S. to further introduce the many tourism and investment opportunities the country has to offer."
The main goals of the event are the promotion of export quality Peruvian agriculture, fishery and aquaculture products from Peru to the world and the promotion of gastronomic tourism with a focus on regional tourism. At the same time, the event will showcase ambassador chefs from "Marca Peru," the participants of the Peruvian gastronomy fair "Mistura" and the Peruvian culinary talent currently residing in the U.S.
As part of Peru to the World Expo, an international food and beverage seminar featuring exportable food products from Peru will take place on June 16th from 9AM to 1PM at Rutgers University Business School in Newark and will focus on new trends in the nutrition consumer market as well as identifying new market niches and their benefits. Tickets for the seminar are $60.
In addition, an investment forum will take place on Friday, June 15th from 8AM to 12PM at UBS Financial Services Inc. in Weehawken, New Jersey. The forum will highlight investment opportunities in Peru, whose economy has been growing at an impressive rate of 6% in the past several years. Becoming one of the most dynamic countries in Latin America in which to invest due to its culinary richness and diversity, Peru's agricultural, aquaculture and fishery industries have received global attention in recent years. The forum will allow potential investors the unique chance to hear first-hand from government officials and representatives about the legal framework, incentives, potential return on investment and much more.
"Goya is proud to sponsor this event to further our existing relationships within the Peruvian community in the U.S. as well as those with Peruvian businesses," said Joe Perez, Sr. Vice President of Purchasing and Marketing for Goya. "We're confident that these relationships will continue to thrive and count on Peru as an important source of many of our imports."
Peru Agribusiness Association launched Peru to the World Expo in partnership with Sierra Exportadora, The Center for Urban Entrepreneurship and Economic Development (CUEED) at Rutgers University and Prompueru—the Peruvian government commission that promotes exports and tourism.
To see the complete schedule of events or to register as an attendee or exhibitor please call 201-759-2764, or 973-523-0505, or visit: http://www.perutotheworldexpo.com