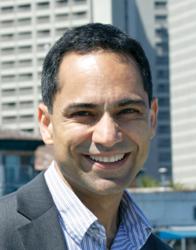 Améredia shares NAMIC's vision – that of growing multi-ethnic diversity within the communications industry.
San Francisco, Calif. (PRWEB) May 16, 2012
Pawan J. Mehra, founder and principal of multicultural advertising agency Améredia, was in April named a Next Generation Leader by the National Association for Multi-ethnicity in Communications (NAMIC) for his outstanding vision toward diversity within the advertising, marketing and media industry. He will be awarded alongside other diversity pathfinders at the NAMIC Annual Awards Breakfast on May 23, 2012, from 7:30 a.m. to 9 a.m. EDT at the Westin Boston Waterfront in Boston.
"Améredia shares NAMIC's vision – that of growing multi-ethnic diversity within the communications industry," said Pawan J. Mehra, founder and principal, Améredia. "The two organizations are at the forefront of an industry experiencing rapid change and continue to build that vision together. I'm proud, honored and humbled to receive this recognition on behalf of my team, partners and communities that we serve."
The Next Generation Leaders are emerging executives of color – business leaders demonstrating exceptional managerial acumen while embracing NAMIC's mission to educate, advocate and empower for diversity and inclusion in the communications industry. The awards are presented in partnership with Multichannel News in four categories: Cable Programmer, Cable MSO, Technology Company/Discipline and Creative Discipline. Executives of color age 45 and under were eligible for nomination.
The other three 2012 NAMIC Next Generation Leaders recognized by NAMIC are: Rosalyn Durant, vice president, ESPNU and ESPNHS, ESPN; Sree Kotay, senior vice president, chief software architect, Comcast Corporation; and Fernando Laguarda, vice president, External Affairs and Policy Counselor, Time Warner Cable. In addition to the top honorees, a group of NAMIC Luminaries will also be recognized. A full list of honorees can be found on the NAMIC press release.
One of Améredia's key strategic partners under Pawan's leadership has been Comcast Corporation, now the nation's largest MSO and media company. As its multicultural agency of record, Améredia has enabled Comcast to extend its brand marketing across a diverse community spectrum nationwide, including Asians, Europeans, Middle Easterners and select Hispanic communities. In addition to Comcast, Améredia's cable industry experience includes working on Bright House, Cablevision, Charter, Cox and Time Warner Cable marketing communications to build their brands within diverse markets. Améredia's work has for six consecutive years received multiple Excellence in Multicultural Marketing Awards (EMMA) from NAMIC. Last year alone, the agency received four EMMAs.
About NAMIC
National Association for Multi-ethnicity in Communications (NAMIC) is the premier organization focusing on multi-ethnic diversity in the communications industry. Founded in 1980 as a non-profit trade association, today NAMIC comprises over 2,700 professionals belonging to a network of 16 chapters nationwide. Through initiatives that focus on education, advocacy and empowerment, NAMIC champions equity and inclusion in the workforce, with special attention given to ensuring that the leadership cadres of our nation's communications industry giants reflect the multi-ethnic richness of the populations they serve.
About Améredia
Améredia Inc. is a full-service multicultural advertising, marketing and communications firm specializing in building growth strategies within U.S.-based diverse communities. The agency enables private, government and non-profit organizations to connect with Hispanics, Asians, Europeans, Middle Easterners, Pacific Islanders, Africans, LGBT and other diverse groups nationwide. Conceptualizing culturally-engaging campaigns across print, TV, radio, online, outdoors, events, grassroots and social media platforms in over 20 leading languages, Améredia is one of the fastest-growing diverse market agencies nationwide.