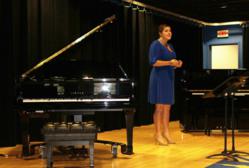 UK Opera Theatre now joins the pantheon of elite opera programs reconfiguring their curriculum to meet the needs of students in the 21st century.
LEXINGTON, Ky. (PRWEB) May 17, 2012
Marked by a dynamic ceremony celebrating the delivery of an exquisite new fleet of Yamaha pianos, The School of Music in The University of Kentucky College of Fine Arts has procured the largest, one-time acquisition of Disklavier performance reproducing pianos in academia anywhere in the world. The ceremony took place on Monday, May 14, 2012 at the Schmidt Vocal Arts Center.
Other institutions of higher learning that own Disklaviers include: Brigham Young University, The Juilliard School, Southern Methodist University, Louisiana State University, University of California, Los Angeles, University of Kansas, Yale University, Oberlin College, The University of Miami, Wayne State College, Texas Christian University and The University of Georgia.
UK's acquisition consists of 18 new Yamaha pianos, including two AvantGrand N3 hybrid pianos, two T118 47" acoustic upright studio pianos, three T 121 48" acoustic upright studio pianos and 11 DC2E3 5'8" Disklavier conservatory grand pianos. The instruments will support the program's demanding performance, practice and rehearsal needs.
"With this purchase of Disklavier and AvantGrand pianos, The University of Kentucky will be propelled onto the international stage as a major institutional user of these remarkable instruments," said Mike Bates, Senior Consultant for Yamaha Corporation of America's Institutional Solutions Group.
The Disklavier is a special acoustic piano fitted with a sophisticated system of sensors that record every aspect of a performance, including pitch, dynamics, phrasing and pedaling. The performance information can be stored on a hard drive and recalled for a later performance. The latest model of Disklaviers can be connected to one another via the Internet. Once connected, the performance information can be transmitted from one instrument to the others – and be immediately reproduced with perfect precision, even on the other side of the globe.
The dedication included spirited performances by the students and faculty of UK Opera Theatre. Students serenaded their new Disklavier grands with a performance of "It's A Grand Night for Singing," from the Rodgers and Hammerstein musical, State Fair. "Think of Me," from Andrew Lloyd Webber's Phantom of the Opera, showcased the Disklavier's "player piano" capabilities, in essence, providing a "phantom accompanist." Rebecca Farley, Senior Voice Major at the University of Kentucky, was the featured Soprano.
"UK Opera Theatre now joins the pantheon of elite opera programs reconfiguring their curriculum to meet the needs of students in the 21st century," said Everett McCorvey, D.M.A. Executive Producer, UK Opera Theatre, Professor of Voice and Lexington Opera Society Endowed Chair in Opera Studies. "This exceptional fleet demonstrates our commitment to providing the finest instruments possible to support and inspire our talented students and staff."
The event also featured captivating demonstrations of how the instruments' sophisticated recording and playback capabilities, as well as Internet Connectivity, will enhance the University's collaborative and educational curriculum for music theory and harmony and ear training, as well as distance learning, via Yamaha RemoteLive and Remote Lesson Technology.
This purchase was made possible thanks to a matching grant by the W. Paul and Lucille Caudill Little Foundation. The Lexington Opera Society secured the grant from the Little Foundation and Henderson Music Company of Covington and Lexington provided support in facilitating the units. The $300,000 foundation grant was matched by an anonymous donor, resulting in the purchase of the Yamaha pianos totaling $600,000. The project was initiated by the current campaign to raise capital dollars to renovate the Schmidt Vocal Arts Center, home of UK Opera Theatre.
To learn more about Yamaha's Institutional Solutions Group, contact Mike Bates at mbates@yamaha.com or 714-522-9210.
For more information about Yamaha products, write Yamaha Corporation of America, P.O. Box 6600, Buena Park, CA 90622-6600; call (714) 522-9011; email infostation@yamaha.com; or visit http://www.yamaha.com.
About Yamaha
Yamaha Corporation of America (YCA) is one of the largest subsidiaries of Yamaha Corporation, Japan and offers a full line of award-winning musical instruments and sound reinforcement products to the U.S. market. Products include: Yamaha acoustic, digital and hybrid pianos, portable keyboards, guitars, acoustic and electronic drums, band and orchestral instruments, marching percussion products, synthesizers, professional digital and analog audio equipment, Steinberg recording products and Nexo commercial audio products. YCA markets innovative, finely crafted technology products and musical instruments targeted to the hobbyist, education, worship, professional music and installation markets.