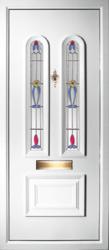 As of today the home owner wanting to change their old front door can order one and install it themselves. Thanks to u-fit the UK's leading manufacturer of UPVC doors.
Coventry (PRWEB UK) 19 May 2012
Thanks to u-fit, the UK's leading manufacturer of UPVC doors: the home owner wishing to change their front door can order it via UPVC Door online and easily install it themselves.
U-fit has always believed that the home owner takes great pride in being able to install their own home improvements. Having sold their popular range of DIY double glazing windows online since 2004 their range of UPVC doors covers 10 specialist designs that are unique to u-fit and are made in house using a Canadian designed, state of the art CAD RAM machine.
The company realised how daunting the prospect of installing a UPVC door could be to the general householder, so they set about creating a logically presented and illustrated guide to take the homeowner from survey to fitting their new door. The company has also produced a video and UPVC door fitting instructions online so that the home owner can be fully informed prior to starting work. Alternatively a local tradesman can be employed to fit the door.
The customers' door survey sizes can be entered online and they can select a front door style selected from a comprehensive range offered in 4 colours. Also available are the options to change profile colour, handles, letterbox, house numbers and security spy hole knocker.
The customer can also order a door fixing kit at this time which includes special direct fixing bolts, silicone and DIY friendly frame packers.
Delivery of the made to measure door is within 10 working days anywhere within the UK. The packaging of the UPVC door needed special consideration and the company tested several different methods before opting for a polystyrene crating procedure.
John Armstrong, U-fit M.D comments ' As of today, the home owner can chose to install their own UPVC door and improve their property at a fraction of the price of a traditionally fitted UPVC door'.
U-fit is a trading style of Armstrong Industries Ltd. Established in 1996 they fabricate both Synseal UPVC and Beaufort Aluminium window, door and Conservatory products full details can be found at the companies site
http://www.upvcdoubleglazing.biz