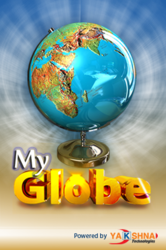 (PRWEB) May 16, 2012
Yakshna Solutions is always bringing the newest and most valuable applications to users across the globe and in the newest addition to their many applications MyGlobe does not disappoint. Yakshna Solutions is dedicated to creating educational and intriguing applications aimed at stimulating the minds of users across the globe and providing a very useful resource to them.
MyGlobe is an education and resourceful application that provides information about the globe. It is an informal educational entertainment application with various features including information about continents, countries, oceans and other national geographic information about the planet we live in.
MyGlobe allows users to gain information about the globe at the swipe of a finger. With interesting facts about Flags and Countries, need to know information about the Wonders of the world and the mind-boggling facts about the Earth, MyGlobe has everything users need.
In addition to the Facts and features of the Globe and the countries within it, MyGlobe brings an interactive Globe display to the front of the educational world. Users can simply tap the Globe anywhere to obtain the name of the region, the state or country and a physical representation of the area.
Download MyGlobe today and learn more about the world we are living in all with the touch of a finger.