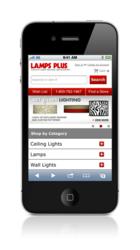 Customers can now access store information, product information and resources—whenever and wherever.
Los Angeles, California (PRWEB) May 21, 2012
Lamps Plus, America's largest decorative lighting store, announced today that it has launched a mobile version of the Lamps Plus website. Accessible from any web-enabled phone or smartphone, the site connects customers, wherever they may be, with the nation's most trusted name in lamps, lighting fixtures, home décor and furniture. Visit http://www.LampsPlus.com from any web-enabled phone to test drive the site.
The mobile website provides customers with the same information as the regular Lamps Plus site, such as product pages, user generated reviews, and saved wish lists. It also provides geo-location based store information and product availability for those on the go. Customers can also access the site by scanning QR codes printed on store product tags with their web-enabled phone. Other QR codes point to the mobile site from printed advertising and catalog material.
The Lamps Plus development team worked with Pennsylvania-based Branding Brand, a leading mobile commerce platform developer, to provide a Mobile Optimized Experience. Site images were optimized to load quickly and are sized for small screens, while text and navigation buttons were made for use with fingers, not a mouse and keyboard.
Featuring an expedited checkout process, the Lamps Plus mobile website makes it easier than ever to find and buy lamps, home decor and furniture online. Customers can view their wish lists and order history, or browse the entire catalog of more than 40,000 Lamps Plus products. From lighting fixtures to home decor, mobile customers can call-up product images, demonstration videos and even customer reviews to ensure they're finding exactly what they want, when they need it.
"It's this all-access concept that makes the mobile website such a valuable tool in home décor," says Angela Hsu, Vice President of Internet Marketing for Lamps Plus. "Renovations and home re-design projects often take place on the weekend and on the spot, when people aren't usually sitting in front of a computer. With our new mobile site, users can find chandeliers and lighting fixtures or home furnishings from wherever they happen to be."
Chris Mason, co-founder and CEO of Branding Brand notes that, "Even though Lamps Plus is a West Coast brand from a brick-and-mortar standpoint, their number-one city for mobile traffic and sales is New York. Retailers need to be where their customers are, and Lamps Plus realizes this. We are proud to connect their consumers across the country in a way that is seamless and convenient."
Lamps Plus also placed an emphasis on linking the mobile customer to their local retail store locations. Using geo-location based information, customers can access nearby store profiles, including contact information, store hours and directions. Elaborated Hsu, "Our local store customers can research designs, find what they like, then check the availability in nearby Lamps Plus store locations. We are also very excited about how they can even schedule an in-store consultation appointment with one of our American Lighting Association-trained store associates."
The local mobile experience doesn't stop at the showroom doors either. "Once we have the customer in our stores, we also wanted to use the mobile site to provide them an enhanced shopping experience," notes Hsu. "By scanning the QR code on a given product's price tag, they can view the size dimensions without pulling out the measuring tape, read customer reviews, or save it to their wish list for purchase later." Any third party QR code reading app is required for this functionality.
Hsu summarizes, "We believe the Lamps Plus mobile website revolutionizes the way people utilize technology for their home design projects, by giving them full access to store information, product information and resources—whenever and wherever."
About Lamps Plus
For more than 30 years, Lamps Plus has been synonymous with excellence in the lighting retail industry. Established in 1976, Lamps Plus is the nation's largest specialty lighting company, with more than 40 superstores throughout the western United States. Together with their retail lighting stores and online business, Lamps Plus serves customers nationwide with the largest selection of functional and decorative lighting fixtures, accessories, furniture and home décor. This selection includes hundreds of products available exclusively from Lamps Plus. Services include in-home lighting consultations, in-store lighting workshops and installation from expert, licensed electricians. American Lighting Association certified lighting designers are available to offer product recommendations and lighting advice in all our stores, by phone or online at http://www.LampsPlus.com
###