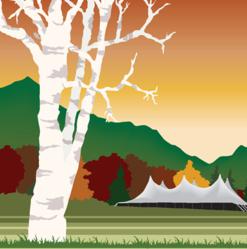 "The audience is entertained and makes social connections; local merchants are showcased; sponsors are supported and get their message out; and the local area realizes the benefits." - Mark Burke, MNE managing director
Brattleboro, VT (PRWEB) May 17, 2012
Music New England (MNE), a new presenting and performing arts entity, will debut its unique music festival model Saturday, June 30 on the grounds of the Vermont Agricultural Business and Education Center in Brattleboro, also known as the Famolare Farm.
The Event in A Tent fuses live music with other genres of performing art and audience participation to create a singular entertainment experience. Each Event takes full advantage of the local sylvan, mountain and pastoral settings to showcase its performances. An essential feature is a family friendly atmosphere which also caters to couples and individuals of all ages and encourages picnicking and socializing. The draw is not only the music and performances, but equally as important, the informal, pre-concert activities.
MNE Managing Director Mark Burke says The Event in A Tent concept was designed to create a spectacular musical presence in New England and southeastern Canada. The mobility of the festival, represented by its tent, will allow it to travel from place to place, and will make it an ideal showcase for ski resorts and their local businesses and municipalities who need to increase their off-season traffic.
"Each Event is designed to provide a 'win' for all participants," says Burke. "The audience is entertained and makes social connections; local merchants are showcased; sponsors are supported and get their message out; and the local area realizes the benefits of increased traffic, name recognition and positive opinions formed in association with the Event."
The June 30 presentation will be a half-day Event illustrating the breadth and flexibility of its festival format for one, two or three day Events. After the gates open and before the main concert, families will enjoy picnicking on the festival grounds while being entertained by strolling minstrels and clowns, with additional activities such as didgeridoo lessons, face-painting for children and lessons is circus arts.  Audience members will be able to reserve picnic basket lunches on the MNE website in advance of June 30, and there will be a beer garden on the festival grounds featuring local breweries and vineyards, as well as non-alcoholic beverages.
The pre-concert festivities gradually build to a finale, signaling the approach of the concert itself and bringing those with the appropriate ticket inside the 1,000 seat tent. Those without a tent ticket will be seated on the grounds, much like Tanglewood, around the tent.  The professional orchestra, under the baton of Maestro Hugh Keelan, will perform:

Pastoral/Americana musical selections that specifically evoke Vermont;
Beethoven's Pastoral meets Tropical Storm Irene and offers "Happy and Grateful Feelings After the Storm," in an inspiring symbol of community rebirth;
Spirituals and Blues featuring solo vocalist with orchestra;
Excerpts from the opera Pagliacci integrated with circus and trapeze arts performed by acrobats from the New England Center for Circus Arts;
Mass fiddle/violin/Gypsy participation of Vittorio Monti's Czardas with orchestra, open to all ages and abilities.
Music New England is situated in Brattleboro, Vermont. Burke says the town's location in the southern part of the state makes it an ideal gateway for visitors from Connecticut, Massachusetts, New York, and New Jersey looking to spend time in Vermont's natural splendor. But his goal following the June 30 event is to garner interest in bringing The Event in A Tent to other locales.
"MNE's signature is its tent, moving from venue to venue, a symbol of majesty, mystery and magic that will honor not only the music, but also the imagination of the audience," says Burke.
Music New England is thankful for sponsorship support from the Vermont Department of Marketing and Tourism, Ski Vermont, Brattleboro Memorial Hospital and Entergy.
For more information visit musicnewengland.org or email info(at)musicnewengland(dot)org.