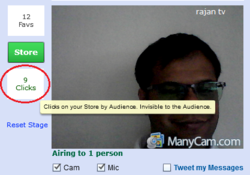 Start video chat with your Twitter followers, play music online, interact and drive web traffic to your music store.
San Jose, CA (PRWEB) May 31, 2012
Most musicians today have interacted with their fans and followers using video streaming sites that let broadcast live video and chat. Generally, musicians use their webcam and internet connection at home to sign in, share URL with fans and the fans will join in the conversation. The conversation would include some fun, chat and some music.
One of the Problems that comes along with these sites is the presence of intrusive advertisements. Airsee offers ad-free service and looks to keep it non-intrusive for a long time. When Musicians are streaming live music, their fans should not be seeing the advertisement instead of video stream.
As known in the market, Musicians are making less with Music Streaming services like Rhapsody and Spotify. This leaves music artists with option of generating revenues through Live Music shows.
The best option for artists is to figure out the best service that generates maximum revenues for them for each song sold. They can come up with a music store URL that helps generate maximum profits for them. Airsee's Twitter integration also enables fans to tweet right from the Text Chat to engage Twitter followers and attract more traffic.
Musicians also need to measure the value for their time spent on the website. Airsee offers 'Clicks' feature. It tells exactly how many times fans clicked on the 'Store' button. Ad clicks can be purchased for an average $3. Airsee helps get musicians track these clicks and measure the benefit they receive by using the service.
Airsee looks forward to offer best platform to interact live with a large audience.