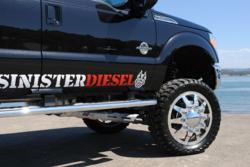 "What we're hoping to do here is help people to save money on diesel, make their truck perform better and sound better, and at the same time keep Americans here at home in good jobs."
Roseville, CA (PRWEB) May 18, 2012
As the presidential election grows closer, it seems one of the only things both sides can agree on is the lack of jobs in America. Manufacturing jobs, like welding or machining, have largely gone to China or Mexico. With conservatives and liberals disagreeing on how to solve the problem, the everyday American still knows of only one way to help: buy American made products. But it can be hard to find American made parts that don't break the bank.
MKM Customs, a California based company that creates performance parts for diesel engines, aims to defy that stereotype. For the past seven years, MKM has machined and welded all of their parts in their California location. Accessories like grills, performance optimizers like diesel exhaust systems, or necessary items like suspension are all available through the company's website: http://www.mkmcustoms.com.
MKM's power stroke package for Ford trucks, the 6.0 Powerstroke STAGE 1 Power Package, retails for an affordable 2099.00. This kit improves diesel performance and keeps engines cleaner and cooler. MKM also offers similar kits for Chevy, GMC, and Dodge trucks.
"These are the trucks that populate America's heartland," said Michael Mitchell, a spokesperson for MKM Customs. "What we're hoping to do here is help people to save money on diesel, make their truck perform better and sound better, and at the same time keep Americans here at home in good jobs."
The reduced cost of manufacturing overseas often means that foreign businesses can offer pricing American businesses can't, forcing consumers with intentions to buy American to settle for a foreign part. To combat this, MKM Customs offers a price match guarantee and free shipping on orders over $100. Under MKM's price match guarantee, any product that retails for more than $100 is eligible. MKM promises that they will beat a competitor's better price by $5. In addition, MKM offers customer support to answer any questions about optimizing diesel performance.
"Our customers love that they can call us and speak to someone locally, instead of getting someone overseas, which is so often the case these days," Mitchell said. Before or after purchasing a new diesel exhaust, MKM customer service is available to discuss any concerns or difficulties installing the equipment