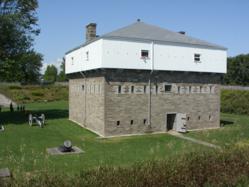 Prescott, Ontario (PRWEB) May 18, 2012
Ever wonder what military life was like during the War of 1812? Experience it first hand at Fort Wellington May 19-21, 2012.
Period military re-enactors will take up quarters in the national historic site for Garrison Weekend, offering weapons demonstrations and battle re-enactments.
Garrison Weekend will also mark the opening of a new visitor centre housing the remains of a rare 1812-era gun boat wreck.
Visitors will have the opportunity to try English Country Dancing at the Fort on Saturday May 19 at 3:00 PM.
The Prescott Business Improvement Association will also host an 1812 fashion show on Saturday May 19 at 10:30 AM by the Clock Tower on King Street.
Garrison Weekend coincides with a regular monthly 1812 Dinner Series organised by the Spencerville Mill Foundation at the Red George Public House. This month's speaker is historian Dianne Graves, author of "In the Midst of Alarms:The Untold Story of Women and the War of 1812". The talk begins at 5:30 PM on Sunday, May 20 and features a period meal. Call the Red George at +1.613.925.8800 to save your place.
The Red George will offer period dishes throughout Garrison Weekend, including Stout Stew.
Prescott is an historic town located on the north shore of the St. Lawrence River, where troops were garrisoned during the War of 1812.