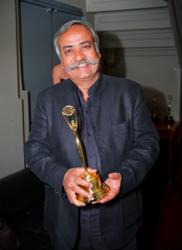 New York, NY (PRWEB) May 16, 2012
At a ceremony taking place at the American Museum of Natural History last night, the CLIO Awards, one of the world's most recognized awards competitions honoring excellence in advertising, design and communications, celebrated the work of winning agencies from around the world. Winners received Grand, Gold, Silver and Bronze statues in 11 different media such as Film, Interactive and Print. The complete list of 2012 CLIO Award winners in all categories is available at: http://www.clioawards.com/catalog/2012/2012_winners/ .
The night's big winner was Ogilvy & Mather, which was named as Network of the Year, with Worldwide Chief Creative Officer Tham Khai Meng accepting the award on the agency's behalf. Chairman and Chief Creative Officer of BBDO New York David Lubars accepted the Agency of the Year honor. President and CEO of Volkswagen Group of America Jon Browning and Executive Director of Marketing Product and Communication, VW Passenger Cars at Volkswagen AG Luca de Meo took the stage to accept Volkswagen's Advertiser of the Year Award. Smuggler was honored as Production Company of the Year. Wieden+Kennedy London received the CLIO Hall of Fame Award.
The ceremony, hosted by comedy icon Joan Rivers, paid tribute to CLIO Lifetime Achievement Award winner Piyush Pandey, Executive Chairman of Ogilvy & Mather India, for his prolific, three decades-spanning career. Often feted as "the godfather of Indian advertising" by peers, Pandey was also the recipient of the 2010 Advertising Agencies Association of India Lifetime Achievement Award. Pandey was presented the award by Ogilvy & Mather Chairman Shelly Lazarus.
"I feel very honored to be receiving the CLIO Lifetime Achievement Award. I'm mostly grateful to the 1.2 billion people in India who like my work and made it possible for it to get noticed internationally," said Pandey. "I share this award with them."
Photographer Annie Leibovitz and chef, author and television host Anthony Bourdain received honorary CLIO Awards for their outstanding bodies of work and creative contributions to their respective industries.
For more information on the CLIO Awards, please visit http://www.clioawards.com.
About The CLIO Awards
The CLIO Awards is one of the world's most recognized awards competitions for advertising, design and communications. The CLIO Awards has maintained its original commitment to celebrate and reward creative excellence, honoring a powerful form of communication and its impact on modern culture. At the same time, the CLIO Awards remains focused on evolving with the industry in order to acknowledge the most current, breakthrough work. To this day, CLIO's iconic statue is the most widely recognized and coveted symbol of the industry's creative accomplishments.
About Prometheus Global Media
Prometheus Global Media engages people and marketers at the intersection of culture's most powerful forces—music, media and entertainment. This connectivity makes Prometheus a potent catalyst in influencing popular culture. Its leading assets include: music (Billboard and its related conferences and events, including the Billboard Music Awards), entertainment (The Hollywood Reporter, ShowEast, CineAsia, and CineEurope); and advertising & marketing (Adweek, Adweek Conferences and the CLIO Awards).