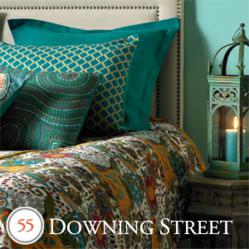 We see 55 Downing Street as a 'bit and mortar' business integrating flash site savings with our traditional brick and mortar customer service.
Los Angeles, California (PRWEB) May 23, 2012
There is a new player in the online flash site arena. Lamps Plus, the nation's largest specialty lighting retailer, recently launched its 55 Downing Street sale event website, focusing on special deals in home furnishings and décor.
Unlike many home décor and furniture flash sale sites, 55 Downing Street opens up exclusive, limited-time savings to everyone. No membership or invitation is required to take advantage of 70% savings on furniture, lighting, art, mirrors, ceiling fans, accessories and more. Because 55 Downing Street offers a manageable, well-designed online shopping experience, it is the perfect gateway for consumers who have heard about the flash sale trend, but have yet to try it for themselves. An upcoming sale events page provides a calendar of future events.
Each themed collection on 55 Downing Street is designed, hand-selected and sourced by members of Lamps Plus' worldwide team of industry experts. These specially curated collections offer consumers interior design inspiration, minus the guesswork. Additionally, free shipping is available on many items, and a straightforward return policy gives consumers added confidence in their purchases.
"We envision 55 Downing Street as a bit and mortar business," explains Dennis Swanson, President and CEO of Lamps Plus. "By bit and mortar, I mean that the site integrates the big savings and limited-time offerings people expect from a flash sale website with the brick and mortar values customers have come to expect from Lamps Plus—namely quality products, attentive customer service and a no-nonsense return policy."
Sale events last seven days and are regularly scheduled with a new sale posting each weekday; special sales will be held periodically. Designs in each sale event are available in limited quantities; once they are sold out they are no longer available. Visitors to 55 Downing Street can expect a clean, well-designed shopping experience with events grouped by product, room, designer, style and color. 55 Downing Street will also offer seasonal and holiday décor sales. Plus, "Verified Customer" product reviews are visible for consumers to get a second opinion before making their purchase.
Recent sale events have included modern outdoor furniture, ottomans and trunks, accent tables, and a themed style sale on American Heritage décor. "Our style events are a great way for customers to get a fresh design look for their homes for less," says Swanson. "Customers can expect to find lighting, décor accents and furniture that all works together with a coordinated look."
55 Downing Street will launch a blog later this summer featuring design and lifestyle advice, décor tips, original photos and videos, previews of upcoming events, and user-generated content. The blog will be linked from the site's home page. Also, a social media presence is already in place including a 55 Downing Street Facebook page, and an extensive collection of Pinterest design boards. 55 Downing Street will utilize the platforms for special sale events, contests, promotions and to interact directly with design consumers.
About Lamps Plus
For more than 30 years, Lamps Plus has been synonymous with excellence in the lighting retail industry. Established in 1976, Lamps Plus is the nation's largest specialty lighting company, with more than 40 superstores throughout the western United States. Together with their retail lighting stores and online business, Lamps Plus serves customers nationwide with the largest selection of functional and decorative lighting fixtures, accessories, furniture and home décor. This selection includes hundreds of products available exclusively from Lamps Plus. Services include in-home lighting consultations, in-store lighting workshops and installation from expert, licensed electricians. American Lighting Association certified lighting designers are available to offer product recommendations and lighting advice in all our stores, by phone or online at http://www.LampsPlus.com.
About 55 Downing Street
55 Downing Street is a new concept in online retail offering limited-time, limited-quantity sale events featuring designer lighting, furniture and home décor at exceptional discounts. Launched by Lamps Plus, America's largest and most trusted decorative lighting store, 55 Downing Street offers perks not found on most flash sale sites, including a no-nonsense return policy, attentive customer service and top quality products sourced from the parent company's worldwide team of industry experts. With sale events organized around design and seasonal themes at savings up to 70% off, 55 Downing Street is the new address for deep discounts on high style. New sale events are added weekly at http://www.55DowningStreet.com.
###