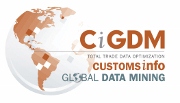 We wanted our clients to be able to access CUSTOMS Info blogs from anywhere
Eden, UT (PRWEB) May 21, 2012
CUSTOMS Info News brings customsinfo.com blog posts to the fingertips of iPhone, iPod touch, and iPad users.
"We wanted our clients to be able to access CUSTOMS Info blogs from anywhere ," said Ron Lackey, president CUSTOMS Info. "This is another way to access the latest International Industry trends and developments."
CUSTOMS Info News enables users to:

Learn Import/Export and Customs Compliance best practices
Keep updated on CUSTOMS Info subscription content updates
Read the latest blog posts on International Industry trends and developments
Learn about upcoming webinars offered by CiGDM
Product details:

Category: Business
Released May 15, 2012
Version 1.8.7.240
Size 3.0 MB
Language: English
Seller: CUSTOMS Info LLC
How to find:

OR

Visit the Apple App Store on your iOS device or in iTunes
Search "Ci News"
Requirements: Compatible with iPhone, iPod touch, and iPad. Requires iOS 4.0 or later.
Supporting Resources

About CiGDM
CUSTOMS Info (Ci) and its sister company Global Data Mining (GDM) help businesses optimize global trade management (GTM) systems and streamline global trade automation. Ci provides the world's most comprehensive trade data repository delivered via web-based subscription, API web services or as data to populate any GTM or Landed Cost application. Ci is the largest provider of duty and tax content for international e-commerce with hundreds of e-commerce sites utilizing our data to provide accurate landed cost information. Our data and services provide faster deliveries and fewer border delays. GDM helps multi-national companies increase the informational value of trade data and the productivity of global trade staff to reduce operating costs, improve customs compliance, accelerate supply chain speed and maximize the return on investment of this corporate function. Areas of expertise include customs classification research, customs auditing and trade data analytics/business intelligence.
Working in conjunction with GTM applications, Global Data Mining and CUSTOMS Info's strategic partners include SAP, Oracle, and other trade software partners. Please visit http://www.customsinfo.com , http://www.gdmllc.com for more information.
###