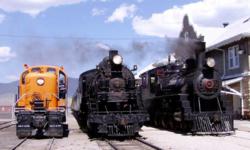 And, importantly our attractions and lodging are both affordable and accessible.
Pony Express Territory, Nevada (PRWEB) May 17, 2012
Although there's not much today's traveler can do about rising gas prices, smart travelers can seek out some of the most affordable lodging options and still get to experience a low-to-no cost cultural adventure in Nevada's Pony Express Territory.
This area includes the six adventurous towns of Dayton, Fallon, Fernley, Austin, Eureka and Ely all connected along U.S. Route 50 through the middle of Nevada also known as America's Loneliest Road. "To counter rising gas prices, our towns are offering some incredible lodging deals and we've always had the most unique ways to experience the cultural heritage of Nevada's rugged West," said Rick Gray, president of the Pony Express Territory.
According to a recent marketplace.com report, the Travel Price Index rose 3.6 percent year over year, primarily a result of rising gas prices and lodging becoming more expensive. But Gray reminds travelers that in Nevada's Pony Express Territory, affordable lodging and lower cost cultural adventure help to counter the gas price.
Gray pointed to a relevant 2012 report by Trip Advisor on U.S. Travel Trends which cites a surge in popularity of 'Cultural Trips' with 42% of travelers wanting to visit museums and historical sites especially if the trip, tours and lodging are affordable. "Cultural travel is on the rise and our Territory has the adventure, mystical vistas and quirky historical towns to match," said Gray. "And, importantly our attractions and lodging are both affordable and accessible."
Travelers can drive the entire territory from one end to the other starting in either Dayton or Ely and can expect to drive roughly 409 miles in about 6.5 hours if driving 65 miles per hour. In comparison, original Pony Express Riders took approximately 41 hours to cover the territory on horseback.
Headed across the Territory, travelers witness dramatic landscapes between each of these towns along America's Loneliest Road. Starting with the town of Ely, here's a glimpse of some of the low-to-no cost historical adventures and affordable lodging:
Just announced from the town of Ely, located 350 miles east of Reno and 240 miles north of Las Vegas, is a new lodging program for 2012 Spend the Night at the Museum where guests choose to sleep in either a Caboose or in the Bunkhouse. Home of the Ely Renaissance Society, this town displays rich murals to celebrate its history. The Nevada Northern Railway is a main highlight where visitors can actually operate a historic locomotive and it is the recent winner of the Nevada Top Treasures award. The 1929 Ely Hotel is another affordable lodging option and is both pet and celebrity friendly!
Stay the night in Ely and take a short-distance day trip to the Great Basin National Park with several sites listed in the National Registry of Historic Places. Wheeler Peak is the second highest in the state and The Lehman Caves is a magnificent limestone cave ornately decorated with stalactites and stalagmites. Park rangers guide cave tours. Extensive backpacking or short walks to Lakes and ancient Bristlecone pine forests also welcome visitors. The Border Inn is also a favorite place to stay near Great Basin National Park.
Eureka offers a walking-tour of restored historical buildings including an art gallery, the Eureka Sentinel Museum and the 1879 Courthouse used today by county government. Performances regularly occur at the festive Eureka Opera House and its Cultural Arts Center is a visitor favorite. The official grand opening of the Eureka Opera House in January 1881 featured the drama, 'Forget Me Not'.
Austin founded in 1862 during the silver rush is a classic historic mining and living ghost town. It features 11 sites on the National Register of Historic Landmarks: the Courthouse; Episcopal and Catholic Church; the Methodist Church/Emma Nevada Town Hall; The Austin Cemetery; the Round Table down below town, Old Town Hall/ American Legion Hall; the Masonic Hall; Austin's old School House; Stokes Castle and the Gridley Store. Fourteen miles east on U.S. Route 50 is Toquima Cave an archaeological site that contains prehistoric pictographs and petroglyphs. Native peoples consider it a sacred site still used today for ceremonial activities and visitors can view from a distance.
Fallon's Grimes Point offers a self-guided tour of petroglyphs and tours to Hidden Cave, an important archeological dig site. Visitors are encouraged to start at the Churchill County Museum. Fallon offers a historic downtown walking tour along with guided tours of the World War historic, Naval Air Station. For the birding enthusiasts, the internationally recognized Lahontan Valley Wetlands is known as a "historic" birding paradise. Sand Mountain is a "Singing" sand dune 20 miles east of along U.S. Route 50, lying on the edge of the ancient Lake Lahontan, which dried up 9,000 years ago.
Many travelers know Fernley as a gateway to the Paiute Tribe Reservation where Pyramid Lake is located (30 mile drive), the largest remaining remnant of a lake system known as Lake Lahontan that covered much of the Great Basin at the end of the last ice age. The Museum and Visitors Center feature several Paiute tribe exhibits.
Dayton, a short drive from Carson City, is where Nevada's first gold was discovered in 1849. In 1950, Misfits starring Marilyn Monroe was filmed here and Old Town features historic buildings such as Wells Fargo, the Pony Express Way Station, the 1865 stone Schoolhouse Museum and the restored 1875 firehouse and jail. Visitors may also tour the ruins of Fort Churchill, an1860s-era U.S. Army base built to protect settlers.
ABOUT THE PONY EXPRESS TERRITORY:
Nevada's Pony Express Territory sits on 17 million acres of wide-open space with 150 years of rich history, rugged undisturbed nature and black night skies. The Territory is where the Pony Express riders once galloped along its main trail crossing 1,840 miles of wilderness, now Highway 50 which connects the six adventurous towns of Dayton, Fallon, Fernley, Austin, Eureka and Ely. Twenty years ago, Life Magazine designated this section of Nevada State Highway 50 – "America's Loneliest Road." For more information, visit http://www.ponyexpressnevada.com or call 1-888-359-9449. Follow the Territory on Facebook http://www.facebook.com/pages/Pony-Express-Nevada/115945638472057 and on Twitter https://twitter.com/#!/PonyExpressNV