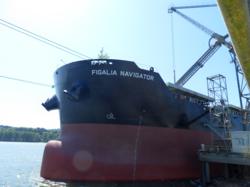 Kalama, Washington (PRWEB) May 17, 2012
The Port of Kalama and Kalama Export LLC this week welcomed the ship Figalia Navigator of Greece, commanded by Ship Master Demitios Kokolis and his 20-member all Greek crew, on her maiden voyage to the United States. The Figalia Navigator, which was built in Korea and owned by J.L. Pipilis, made the Port of Kalama one of its first ports of call to load soybeans at Kalama Export for delivery to China.
Not only is hosting an international ship on its maiden voyage a notable event for Kalama, but the Figalia Navigator's breakthrough next-generation ballast water treatment system, PANASIA, was notable also to officials from Oregon's Department of Environmental Quality and Washington State's Department of Fish and Wildlife. State officials welcomed the ship to tour the new treatment technology helping to keep state waters clean and safe. The PANASIA system provides a two-step process to remove invasive species from ballast water. The first step is a filtration process that removes larger organisms from microscopic zooplankton to small fish or crabs, and larger sediments. The second step is a UV light process that kills or deactivates most of the remaining smaller organisms such as bacteria and viruses.
According to Allen Pleus, aquatic invasive species coordinator for Washington State's Department of Fish and Wildlife, ballast water treatment is extremely important for reducing the number of invasive species that could be discharged into local and national waters.
"The Figalia Navigator is one of just a couple of ships in the world utilizing this type of new generation ballast water treatment system," says Pleus. "There are other types of ballast water treatment systems being developed and installed around the world, but they use chemicals to kill the organisms and testing is most often done for marine environments, which would not be effective for freshwater Columbia River ports. This is a truly cutting-edge system that the US will be requiring soon and it is extremely important for us all to understand and adopt."
The Coast Guard regulates ballast water treatment federally and has not yet approved this company's technology. Currently, ship crews are required to conduct an open sea water exchange. The exchange replaces the ballast water taken up in the last port with open sea water, which is higher in salinity and with organisms less likely to be invasive to coastal ports. However, the exchange process takes several days to accomplish at typically slower speeds which costs time and money.
The Figalia Navigator ship master Demitios Kokolis hosted port and state officials at a reception aboard the ship and the Port of Kalama presented the Maiden Voyage plaque to Master Kokolis. Ship chief officer Konstantinos Perdikouris conducted the tour of the ballast treatment technology.
Figalia Navigator ship information:
LOA: 229.07 m
DWT: 81,480 mt
Grt: 44,648
Built: Hyundai Mipo Dockyard, Korea
Delivery: April 23, 2012
Flag: Greek
Crew: All Greek
The Port of Kalama is located on the deep-draft Columbia River immediately adjacent to Interstate 5 and the mainline railroad. Two grain terminals and a deep-draft break-bulk terminal are located on the river.
About Port of Kalama – Where rail and water meet:
The Port of Kalama is located in Southwest Washington on the Columbia River and immediately off of Interstate Highway 5. The port exists to induce capital investment in an environmentally responsible manner to create jobs and to enhance public recreational opportunities. Port of Kalama's industrial area includes five miles of riverfront property adjacent to the 43' federally-maintained deep draft navigation channel of the Columbia River. The Port is served by the Burlington Northern/Santa Fe and Union Pacific railroads. There are over 20 industries located at the Port of Kalama, employing over 830 people. Port of Kalama offers all the superior facilities businesses need to thrive, and an unsurpassed quality of life. The port offers shovel ready sites, a new Industrial Park, state of the art Marine Terminals and transportation accessibility to rail and highway all just a 30 minute drive to the Portland International Airport. Port of Kalama also offers high-bandwidth communications, with dual access fiber-optic service to Seattle and Portland. Properties currently available at the port for businesses wishing to expand and thrive: http://www.showcase.com/lnewman@portofkalama.com Visit http://portofkalama.com/industrial_property.
CONTACT: Claudia Johnson, Strategic Communications, 503-799-2220/cell