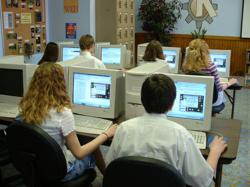 Thibodaux, LA (PRWEB) May 17, 2012
Lafourche Parish Public Schools will host a year-end celebration to recognize those students who have significantly improved their reading scores during the 2011–2012 school year, as well as the teachers and administrators who helped them succeed. This event will give the community an opportunity to see how Lafourche Parish public schools' partnership with Achieve3000® creates dramatic reading gains for all types of learners.
Who: Lafourche Parish Public Schools
What: The Power of Technology: Reading & Writing Awards Ceremonies
When: Thursday, May 17, 2012
Where: Central Lafourche High School 4820 Highway One, Raceland, LA 70394
Featured Guests: Dr. Charles Michel, Special Education Curriculum Supervisor; Dr. Mary Breaud, Special Education Curriculum Manager; Rhoda Caldwell, President, LaFourche Parish School Board; School Board Members Al Archer, Gary Foret, and Louis E.Thibodaux; Saki Dodelson, CEO, Achieve3000; Jim Coulon, Chief Strategy Officer, Achieve3000
Participants will learn how students use Achieve3000 web-based literacy programs at school and home to improve their reading and writing skills.
As the nation's leader in differentiated instruction, Achieve3000 uses a proprietary software engine to provide targeted lessons to each student in a class based on his or her individual reading level. These proven-effective literacy solutions deliver 100-percent nonfiction text and are based on best practices and decades of scientific research. Learn more about Achieve3000 online at http://www.achieve3000.com.