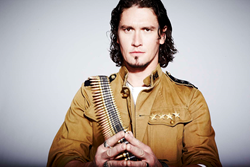 Fifteen years ago the publishing industry scoffed at the idea of conservative books. Within a few years, they were the hottest thing on the market. The same will happen with pro-American rock music.
New York, NY (PRWEB) May 18, 2012
Patriotic rock band, Madison Rising plans to celebrate Military Appreciation Month with three very special events.
On Saturday afternoon, May 19th, the band will perform their high-energy set of pro-American and pro-military rock music to an audience of active duty military service men and women, along with veteran's groups and scores of American filmmakers at the 6th annual GI Film Festival in Washington, D.C. The GI Film Festival is the only American film festival to exclusively celebrate the service, success and sacrifices of those who serve our country in the worldwide struggle for freedom and liberty.
In conjunction with that show, Madison Rising will premiere their distinctive rock version of the National Anthem, updated with a special addendum to reflect our nation's struggles at the dawn of the 21st century. "We've re-worked the National Anthem in an absolutely unique way, but staying as true and respectful to the original version as possible," said lead singer Dave Bray. "It updates and re-energizes one of the best-known songs in American history in way that people won't be able to help but notice." The music video will be available on YouTube that same day, and the song itself will be available on iTunes, Amazon and numerous other outlets beginning on Friday, May 25th.
In addition, on Saturday May 26th, in conjunction with SirusXM Patriot and broadcast worldwide, Madison Rising will play a special set to honor America's military heroes on the deck of the USS Wasp as it docks in New York Harbor for the Memorial Day weekend.
Madison Rising has already ranked in the top 100 selling rock albums on Amazon & iTunes and has legions of dedicated fans all over the country. However, because of their pro-American message, the band is facing major hostility as they strive to make their way through the ultra left-leaning entertainment industry. However, band manager Richard Mgrdechian is confident. "Fifteen years ago the publishing industry scoffed at the idea of conservative books," said Mgrdechian. "Within a few years, they were the hottest thing on the market. The same will happen with pro-American rock music. We're confident that Madison Rising will lead the way."