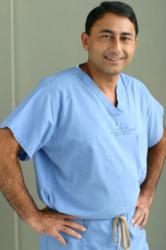 Today's laser vision correction surgery is safer, longer lasting, and provides better vision than ever before
Los Angeles, CA (PRWEB) May 17, 2012
As a leading vision expert, and one of the pioneers of Lasik surgery, Dr. Rajesh Khanna has been selected to appear as a monthly columnist in the Acorn Newspaper publication. For his weekly columns Dr. Khanna will feature useful vision care information, as well as answer a variety of must-know questions from patients and community members that are interested in attaining or maintaining quality vision.
The Acorn newspaper serves the cities of Ventura County spanning from Calabasas to Camarillo. The Acorn publication began over thirty years ago and has grown from just one publication, to five. The Acorn promotes local interests, news, and information relevant to its readers. Readership is currently more than 360,000 and provides reader's with accurate and timely local news. Over the years the Acorn has gained quite a following. Reader's look to the Acorn for a variety of information, such as; local news, referrals to businesses and institutions, and advice. Health and medical advice from a skilled professional such as Dr. Khanna is priceless to the community members. Local southern Californian's have expressed anticipation and delight, and are looking forward to receiving vision care advice.
In the latest issue of his column, Dr. Khanna discusses the various options for individuals ages 18 to 45. For this age group, Dr. Khanna recommends Lasik vision correction. Dr. Khanna asserts that Lasik has a number of astounding benefits; Recent Lasik advances include wavefront technology, astigmatism correction, and blade-free Lasik. Dr. Khanna explains that the computerized analysis of the newest Lasik technology has increased in accuracy and is much more efficient. Dr. Khanna explains to reader's, that today's laser vision correction surgery is safer, longer lasting, and provides better vision than ever before. Lasik of today is able to improve night vision and reduce glare and halos.
Dr. Rajesh Khanna is an internationally recognized LASIK and refractive vision care specialist. He graduated among the top of his class in medical school and is a member of the UCLA faculty. Utilizing his skills to instruct a new generation of eye surgeons on the safest and most effective techniques and procedures, he pioneered many of today's techniques in LASIK and refractive surgery. Khanna invented a variety of instruments to aid in surgeries and speaks at a myriad of national and international professional venues each year. He participates in refractive surgery conferences and wet labs worldwide. Featured extensively in print and broadcast media, he's received prestigious awards and honors from the World Health Organization. He's a member of the American Medical Association, the prestigious American Academy of Ophthalmology and the American Society of Cataract and Refractive Surgery, and certified by the American Board of Ophthalmology.