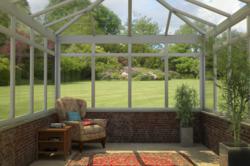 'One of our aims was to give the DIY Conservatory installer access to the same conservatory that professional conservatory installer use'
Coventry , West Midlands (PRWEB UK) 18 May 2012
Buying a DIY conservatory DIY Conservatories is no longer a hit and miss affair thanks to the recent revamp of Armstrong Industries trade conservatory website http://www.conservatories.tv.
Established since 1996, it features its own unique range of DIY conservatories.
The company researched the DIY Conservatory market and found that a large proportion of conservatories available were in fact mass produced kit conservatories that came in a limited range of sizes. They discovered that many were simply a series of window panels joined together with a plastic cleat.
As a trade conservatory manufacturer for many years the company realised that the same manufacturing method they use for trade conservatories; where speed on site and simplicity are a necessity, would actually be ideally suited for the first time DIY installer.
Traditionally a home owner contracts a firm of installers to erect a conservatory on their property. However a DIY conservatory offers the home owner the opportunity to buy a quality conservatory direct from the manufacturer thus enjoying huge savings, and then select their own recommended fitters.
The conservatories.tv website has been modified to allow the home owner to select from a range of styles of conservatory and then chose to either complete a comprehensive online form or they can opt to complete a quicker, much simpler form. The company aims to respond to all enquiries within one working day via email providing both a price and a complete set of drawings, including an image of how the conservatory might look on the home owner's property.
John Armstrong Managing Director conservatories.tv commented;
'One of our aims was to give the DIY conservatory installer access to the same conservatory that a professional conservatory installer could enjoy yet to make the process of buying a conservatory as easy as possible. Thanks to our 16 years of manufacturing trade conservatories we are able to offer the DIY conservatory buyer excellent prices'.
About conservatories.tv
http://www.conservatories.tv is the trading name of Armstrong Industries Ltd established in 1996. Conservatories.tv offers online quotes for DIY conservatories