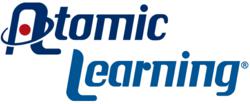 Little Falls, MN (PRWEB) May 17, 2012
Teachers who want their students to be more involved with lessons now have Atomic Catalyst, a new resource introduced by the how-to learning source, Atomic Learning. Instructed by highly qualified facilitators, Atomic Catalyst is a 6-week online course on a variety of topics focused on the effective application of technology in the classroom.
The Atomic Catalyst course Engaging Students with Interactive Whiteboards is a six-week course that discusses interactivity and engagement, as well as the benefits of using an interactive whiteboard in the classroom. Educators will be able to participate with peer connection in online discussions, and complete and submit course assignments throughout the professional development sessions.
During webinar sessions, participants will learn how to operate any Interactive Whiteboard regardless if they use SMART Board™, Promethean ActivBoard®, Mimio®, Easiteach® or another interactive device or program. Participants will also learn how to apply enrichment activities to their existing teaching program while they earn up to 15 hours of continuing education to be used for additional resources for specific how-to support.
For $150, participants will learn to bring life into their classroom with six 1-hour webinar sessions led by an instructor over the course of 6 weeks. Additional fees apply to receive 2- or 3-grad credits if desired. To register for the course visit http://al.atomiclearning.com/whiteboards
Contact
Kathy Schroeder
866-259-6890 ext: 164
Kschroeder(at)atomiclearning(dot)com
About Atomic Learning, Inc.:
Atomic Learning is focused on promoting the practical application of technology in education by empowering educators with the training and resources needed to create 21st century-ready students. Thousands of schools, colleges, and universities have made Atomic Learning an integral part of their professional development, technology integration and technology support initiatives. Visit them today at atomiclearning.com, AtomicLearning.com/highed, or AtomicLearning.co.uk.