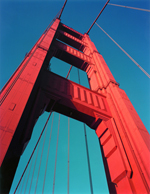 San Francisco, CA (PRWEB) May 16, 2012
It's the countdown to the celebration of the year as the Golden Gate Bridge, Highway and Transportation District and the Golden Gate National Parks Conservancy—in cooperation with the National Park Service, the Presidio Trust, and the City and County of San Francisco—bring the world together for the Golden Gate Festival on Sunday, May 27, 2012.
Marking the official 75th Anniversary of the Golden Gate Bridge, tens of thousands of participants are expected at the historic celebration along the San Francisco waterfront. Although crowds will be dependent on weather conditions, organizers are planning for heavy traffic delays and congestion throughout the City.
Below please find information and resources for the public to keep in hand surrounding the Bridge's spectacular 75th birthday party.
GENERAL INFORMATION:
Date: Sunday, May 27, 2012
Hours: 11:00am - 11:00pm
Admission: FREE
Locations: Fort Point, Crissy Field, The Presidio and Marina Green. (Anniversary activities will also be held at Fort Mason Center, Ghirardelli Square, San Francisco Maritime Historical National Park, Fisherman's Wharf, and Pier 39.)
Event Parking: None
Access Options: Public transit, walk, bike (see more below)
FESTIVAL HIGHLIGHTS:

Fireworks, 9:30–9:50pm. Spectacular grand finale showcasing the Bridge, Bay and surrounding national parklands. Optimum visibility along the waterfront from Fort Point to east Marina Green. The hills above Marina/Cow Hollow and in the Marin Headlands also provide stunning views. Soundtrack aired live on KFOG 104.5/97.7FM. (Note: Fireworks will not be televised and will not be visible from Fisherman's Wharf/Pier 39 south down the Embarcadero.)
International Orange Artists' Exhibition at Fort Point, 10am–7pm.
Crissy Field Stage highlighting dance, music and local bands, 11am–11pm.
Road Trip through History featuring vintage cars and motorcycles from 1937 to the present. East Crissy Field, 11am–5pm.
Crissy Field Center Future Fair with activities and demonstrations showcasing sustainability technologies and innovations in the pioneering spirit of the Bridge. East Beach, 11am–7pm.
Vintage Maritime Display and Historic Watercraft Parade with classic boats spanning 75 years. St. Francis Yacht Club, 11am–3pm.
Marina Green Stage featuring dance and music organizations and local bands. West Marina Green, 11am–10pm.
Marina Green, Crissy Field and Golden Gate Bridge Plaza retail outlets offering Official 75th Anniversary merchandise. Various waterfront locations, 10am-8pm.
Additional anniversary activities will also be held at various locations along the San Francisco waterfront as part of the year-long Golden Gate Bridge 75 Tributes program. For a full list of community tributes visit http://goldengatebridge75.org/celebrate/
EVENT ACCESS:

Please do not drive! No public parking will be available in the Presidio, Crissy Field, or Marina Green.
Expect severe traffic congestion and potential gridlock throughout the day and across the City, and especially after the fireworks conclude.
Plan now to take public transit, walk or bike to the Festival, and plot your route beforehand.
Free bicycle parking will be available. Bring your own lock.
There is NO BRIDGE WALK. The Golden Gate Bridge roadway will remain open to cars although traffic will be interrupted during the fireworks show at 9:30pm.
The Bridge's east and west pedestrian and bicycle sidewalks will be accessible during the day but will close at 6 pm. The sidewalks will reopen to pedestrians and bikes from 10:00pm–midnight.
Presidio gates will be open only to RESIDENTS pedestrians, bicycles, transit, taxies and shuttles. All private vehicle access into the Presidio will be by pre-issued access pass only. Marina gate is open only to emergency vehicles.
Trip planning and traffic updates are available through 511 (711 for TDD) or http://www.511.org.
For complete Golden Gate Festival public information, including transit options, entertainment schedules and additional event recommendations, please visit http://www.goldengatebridge75.org.
About the Golden Gate Bridge 75th Anniversary:
The 75th Anniversary of the Golden Gate Bridge is a project of the Golden Gate Bridge, Highway and Transportation District and the Golden Gate National Parks Conservancy in collaboration with the National Park Service, The Presidio Trust and the City and County of San Francisco. The year-long celebration and May 27th Golden Gate Festival are funded by private contributions, with major underwriting provided by Wells Fargo, Genentech, HP, and Kaiser Permanente. In addition to the Golden Gate Festival, the anniversary includes visitor improvement projects at the Bridge Plaza and adjacent national parklands, as well as 75 Tributes to the Bridge, a year-long series of public programs presented throughout the Bay Area in 2012. For additional information and all public inquiries, please visit http://www.goldengatebridge75.org.
MEDIA CONTACTS
David Shaw, Golden Gate National Parks Conservancy
415-561-3064, dshaw(at)parksconservancy(dot)org
Mary Currie, Golden Gate Bridge, Highway and Transportation District
415-317-2222, mcurrie(at)goldengate(dot)org
###