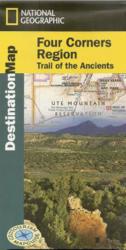 "My office and the Utah Office of Tourism are very excited to have the branding of the National Geographic 'yellow box." Charlie Delorme, San Juan County Economic Development and Visitor Services
Monticello, UT (PRWEB) May 17, 2012
On Saturday, June 2, 2012,Aztec Ruins National Monument will host the launch of a major, four-state geotourism initiative that is a collaboration among National Geographic, the Utah Trail of the Ancients Scenic Byway and other nonprofit organizations, as well as local, state and federal government agencies—including the San Juan County, Utah Economic Development & Visitor Services.
This event celebrates the release of two geotourism products. The first is a full-color, waterproof, tear-resistant map that was produced by National Geographic, titled the "Four Corners Region - Trail of the Ancients." This destination map guide provides directions to and vivid descriptions of historic structures and archeological sites, scenic landscapes and wildlife viewing areas, trails and outdoor recreation, plus local cuisine, culture, festivals, events and artists. Essentially, the map highlights the people and destinations that contribute to the beauty and diversity of the Four Corners area, including San Juan County, Utah.
The second accomplishment is the official launch of the "Four Corners Region - Trail of the Ancients" interactive website http://www.fourcornersgeotourism.com, which is also a National Geographic production and offers even more detail about Four Corners and San Juan County, Utah geotourism destinations.
"My office and the Utah Office of Tourism are very excited to have the branding of the National Geographic 'yellow box,'" said Charlie DeLorme, Director of San Juan County Economic Development & Visitor Services. "The map will guide visitors to and through our region, which is one of the world's most stunning destinations as well as one of the richest in diversity and cultural heritage," he added. Delorme said that this map is the culmination of years of hard work and gives us another implement in the toolbox that Utah's Canyon Country uses to attract visitors.
"We were delighted to support our Four Corners partners on this National Geographic map that is a one-of-a-kind and exciting information for our visitors," said Leigh von der Esch, managing director of the Utah Office of Tourism.
Geotourism is defined as tourism that sustains or enhances the geographic character of a place, its environment, culture, aesthetics, heritage, and the well being of its residents. More specifically, geotourism is an increasingly popular tourism niche that includes adventure and nature-based travel, eco- and agri-tourism, and cultural heritage travel.
The public and the media are invited to attend the celebration of the completed National Geogaphic Geotourism destination map guide "Four Corners Region—Trail of the Ancients," and the launch of its sister website, http://www.fourcornersgeotourism.com on Saturday, June 2, 2012 at Aztec Ruins National Monument in Aztec, NM.
The full-day affair will be held at Aztec Ruins National Monument in Aztec, New Mexico. Plans include a presentation about geotourism and the map guide project by National Geographic's James Dion Director of the Center for Sustainable Destinations; cultural performances by Native American ceremonial dancers and others; a fair that highlights map guide participants; VIP speeches and presentations from national, state and regional dignitaries; guided tours of Aztec Ruins, a World Heritage Site; and excursions to local geotourism destinations, including Salmon Ruins.
Located in the Four Corners region of the southwest United States, Utah's Canyon County is the heart of the Colorado Plateau with the textbook geology that created its breathtaking canyons and majestic mountains. San Juan County provides a perfect, centralized base of travel to the world-renowned features that surround us. National Parks and Monuments, including Monument Valley, Canyonlands, Arches, Lake Powell, Natural Bridges, Hovenweep, Rainbow Bridge, Dead Horse Point and Mesa Verde are all within Canyon Country or easy driving distance. State parks include Edge of the Cedars Museum and the great Goosenecks of the San Juan River. All of this and more is easily visited from our excellent selection of motels, lodges, RV parks, campgrounds, and resorts. Fine dining as well as family restaurants complement the visitor experience.
For more information, please contact Jennifer Padilla
JLH Media
505 577 1347
jpadilla(at)jlhmedia(dot)com