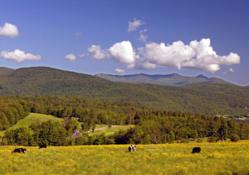 Amidst all this renewal, Vermont visitors are already out exploring the robust line-up of events, open doors and unhurried roads.
Montpelier, VT (PRWEB) May 16, 2012
Late spring in Vermont is a feast for the senses: lilac bushes undulate in the breeze; crisp fiddleheads and tangy, sweet rhubarb come into season; cool mornings shift to short sleeve weather by midday and sunsets stretch into the late-evening. Amidst all this renewal, visitors are already out exploring the robust line-up of events, open doors and unhurried roads. Mark your calendar, the VermontVacation.com Travel Planner lists these featured events and many more.
Strolling of the Heifers Parade and Green Expo
June 1-3
Watch scores of lovable heifer calves led by future farmers, followed by many other farm animals, bands, tractors, floats, clowns and much more in this world-famous spoof on "The Running of the Bulls." When it's over, follow the crowd to the all-day 11-acre Live Green Expo for food, music, dance, demonstrations, exhibits and fun for the entire family. Scroll the stroll online at http://www.strollingoftheheifers.com.
Burlington Discover Jazz Festival
June 1-10
For more than a quarter of a century, the Queen City has celebrated live music during the annual Discover Jazz Festival. Music resonates from every corner of Burlington — from the region's premier performing arts facility, the Flynn Center, to the Church Street Marketplace, to Waterfront and City Hall Parks, to neighborhood restaurants. This 10-day event is a chance for the community to revel in jazz's spectrum of different forms and meet the world-renowned artists. Visit http://www.discoverjazz.com.
President Calvin Coolidge State Historic Site Re-Opening Celebration
June 9
The President Calvin Coolidge State Historic Site in rural Plymouth Notch is America's best-preserved presidential site. Calvin Coolidge, born there in 1872, also became president onsite in a dramatic early morning inauguration on August 3, 1923, after President Harding's death. A new interactive exhibit, "More than Two Words: The Life and Legacy of Calvin Coolidge," opens with a variety of activities planned to celebrate this new historical feature.
Vermont Days Offer Free Fishing and Free Access to State Parks and Historic Sites
June 9-10
Enjoy free admission at Vermont State Park day areas, state-owned historic sites and the Vermont History Museum. Saturday is also free fishing day – the one day of the year when residents and non-residents may fish without a license. Vermont Days feature activities and events at state parks and historic sites, including a fishing clinic at Branbury State Park, the Green Mountain Brass Band at Waterbury Center State Park and a Lorax Storywalk at the following state parks: Silver Lake, Mt. Philo, Button Bay, Knight Point and Elmore. Visit http://www.vermontdays.com for the full schedule.
33rd Annual Quechee Hot Air Balloon, Craft & Music Festival
June 15-17
The skies over Quechee and the Upper Valley of Vermont and New Hampshire will be filled with vibrantly colored hot air balloons ushering in the annual Quechee Hot Air Balloon, Craft & Music Festival. The longest continuously running hot air balloon festival in New England, the Quechee Hot Air Balloon Festival is one of Yankee Magazine's Top 20 Events of summer. Go aloft for an unforgettable view of a beautiful part of the world, http://www.quecheeballoonfestival.com.
Vermont History Expo
June 16-17
Designated by the Vermont Chamber as a Top 10 Ten Summer Event, the Vermont History Expo invites you to walk back in time at this country fair where more than 150 local historical societies, museums, and heritage organizations unite. Some exhibits commemorate the 150th anniversary of the Civil War and Vermont's significant role in that war. In addition to learning opportunities, enjoy crafters, musicians and children's games. View the full schedule at http://www.vermonthistory.org/expo.
Wanderlust Vermont
June 21-24
Wanderlust is a one-of-a-kind festival bringing together the world's leading yoga teachers, top musical acts and DJs, renowned speakers, chefs and winemakers -- all in a setting of breathtaking natural beauty. Come for fun in the sun and dancing under the stars; hiking on peaceful trails and mountainside yoga. Wander at http://stratton.wanderlustfestival.com.
Rockfire, An Elemental Experience
June 23
This annual summer solstice event honors the immigrant communities that lived and worked at the granite quarries for more than a century, and embraces the recreation and beauty that the space offers today. Enjoy more than 900 luminaries and 40 bonfires burning throughout the quarry while visitors walk the biking trails to see live performances. http://www.rockfirevt.com
Native American Heritage Festival
June 23-24
Discover the vibrant Native culture of the Champlain Valley Region as members of the Elnu and Missisquoi Abenaki tribes, the Nulhegan Band of the Coosuk and Koasek Traditional Band of the Koas Abenaki Nation gather at Lake Champlain Maritime Museum for the annual celebration of the region's Native American Heritage. Tribal members dressed in traditional garments will demonstrate singing, drumming, basket making, bead decoration, food preparation and other life skills. Sign up in advance for "Paddle to Prehistory" and travel by canoe to the site of an ancient Native American village with archaeologist Joanne Dennis.
14th Annual Stowe Wine & Food Classic at Trapp Family Lodge in Stowe
June 22-24
A benefit for Copley Hospital and the Vermont Foodbank, the Stowe Wine and Food Classic is a one-of-a-kind food and wine experience, taking you from farm to table and vine to glass. Not only will you meet top winemakers and chefs, you will also get to know the farmers and producers these chefs count on for fresh ingredients. Enjoy more than 100 wines and an array of offerings from area restaurants, cheese makers and brewers, all in a casual and vibrant atmosphere. Up-scale meets down-home in an event you do not want to miss. Learn more at http://www.trappfamily.com.
Event in a Tent comes to Brattleboro
June 30
Music New England, a new presenting and performing arts organization, debuts its unique music festival model on the grounds of the Vermont Agricultural Business and Education Center in Brattleboro, also known as the Famolare Farm. The Event in A Tent fuses live music with other performing art genres and audience participation to create a singular entertainment experience under one 1,000 seat tent. Enjoy a family friendly atmosphere that encourages picnicking and socializing. Visit http://www.musicnewengland.org.