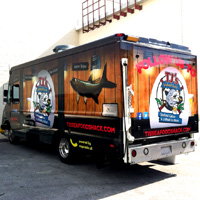 The long-standing relationship and previous collaboration made FliteHaus the obvious choice to design TJs new food truck.
Oviedo, FL (PRWEB) May 17, 2012
TJs Seafood Shack in Oviedo, FL, is a stellar Oviedo seafood restaurant serving the best ocean-inspired dishes for miles. Their dedication to food quality and the friendliest staff around make them the top choice for lunch or dinner any day of the week. TJs has also won the Taste of Oviedo 4 years in a row.
That is precisely why it was big news when TJs Seafood Shack announced it would take its services to the road with the purchase of the TJs Seafood Truck, which has since been voted the People's Choice for Truck Wars, an All-Florida food truck show.
The long-standing relationship, and previous collaboration on their website, made FliteHaus Creative Agency the obvious choice to design TJs new food truck. In late December, FliteHaus designed one of Central Florida's most creative and original food truck wraps.
The TJs Seafood Shack website has a unique splash of 3D designed pieces that adorn the top of the page and are sprinkled throughout the rest of the website. This 3D concept was further built upon for the food truck to create the illusion that each customer is ordering their food right from the tiki-themed bar. Complete with faux wall signs and bucket lights right out of the restaurant - not to mention an enormous tarpon on the wall - the FliteHaus-designed truck wrap truly captures what TJs Seafood Shack is all about.
FliteHaus is an Orlando area creative agency focused on branding for small- to medium-sized businesses. Services include web design & development, logo & brand development, and print collateral.