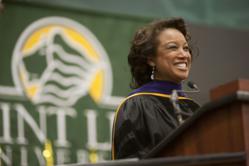 Saint Leo, FL (PRWEB) May 17, 2012
When GOP Presidential Nominee Mitt Romney announces his Vice Presidential running mate at the Republican National Convention in August, will he choose a Saint Leo graduate? Examiner.com proposes that Florida Lt. Governor, Jennifer Carroll, just might be a potential surprise pick. Carroll earned an MBA ('08) and an Honorary Doctor of Laws degree (2012) from Saint Leo University, which offers online MBA programs, as well as evening and weekend programs at its traditional Tampa-area campus and 32 education centers.
According to the Examiner, Carroll's distinguished military and legislative experience makes her an attractive choice. She is the first woman and first African American to serve as Florida's Lieutenant Governor. In her 7-year term as a member of the Florida House of Representatives, she worked to pass important legislature including the Entertainment Economic Development Legislation, which helped create thousands of jobs. Before stepping into politics, Carroll served the US Navy for over 20 years, rising to the ranks of Lieutenant Commander, Aviation Maintenance Officer.
Carroll took classes through Saint Leo University's online MBA programs while serving as a Florida state representative. She returned to campus last month to give the guest commencement speech to the 2012 class of graduate students, including approximately 200 who received MBAs. Wendy Jill Neikirk, who earned her M.S. in criminal justice with a dual specialization in critical incident management and forensic psychology commented about Carroll's commencement speech on Saint Leo's Facebook page: "It was awesome having the Lieutenant Governor of Florida—and a bonus that she is also an alumna of Saint Leo."
Online degrees: A flexible option for working professionals
Adults learners—students over age 25—are the fastest growing demographic in higher education. According to the Center for Education Statistics, the primary federal entity that collects and analyzes data on American education, the number of students over age 25 enrolled in degree-granting institutions rose 43 percent between 2000 and 2009, compared to only a 27 percent increase in enrollment of students under 25.
Online degrees are growing in popularity, especially among experienced professionals who want to enhance their credentials and leadership skills while maintaining work and family obligations. Thanks to the convenience and flexibility of studying online, professionals with demanding careers are attracted these programs since they can arrange their classes around their busy schedules.
Although online courses provide a different learning experience from traditional classes, they are no less challenging. In fact, the Pew Research Center reports that 51% of college presidents say online courses provide the same value as traditional courses. The Washington D.C. think tank conducted the research in the spring of 2011 in conjunction with the Chronicle of Higher Education, surveying presidents of 1,055 two- and four-year private, public and for-profit colleges and universities.
Saint Leo's online MBA programs cultivate tomorrow's business leaders
The curriculum in Saint Leo's online MBA programs is the same the curriculum used in the on campus classes; all students learn to analyze and resolve complex business problems, excel in oral and written communication, and make ethical, economically responsible decisions in the context of a diverse set of stakeholders.
Taking up to two courses per eight-week term, students complete the 36 credits required for graduation in as little as one year, or extend their studies for as long as five years. Students can start Saint Leo online MBA programs at the start of any of the six terms each year.
MBA students choose concentrations in accounting, health care management, human resource management, information security management, marketing, sport business. With director approval, students can pursue up to two MBA concentrations concurrently.
A forerunner in adult and continuing education, Saint Leo is always looking forward, redefining teaching for the 21st century. In the Fall 2011, the university opened at its traditional campus, a new school of business building that boasts the latest in instructional technology and in high-tech, sustainable architecture and design.
Accredited by the International Assembly for Collegiate Business Education (IACBE), Saint Leo University's Donald R. Tapia School of Business is the largest Catholic business school in the U.S., with students and alumni in more than 50 countries. A proven leader in graduate business studies, Saint Leo was ranked #1 for in-seat enrollment by the Tampa Bay Business Journal in 2011. Founded in 1889, Saint Leo University has offered online MBA programs since 2002.
About Saint Leo University
Saint Leo ranks as one of the top universities in the South, according to U.S. News & World Report's "America's Best Colleges" list. Saint Leo's traditional liberal arts campus, located 30 miles north of Tampa, educates more than 1,900 students. Total enrollment across its campus, regional education centers, and online programs exceeds 15,000. Among the oldest Catholic universities in Florida, Saint Leo is one of the nation's 10 leading providers of higher education to the U.S. military, and is a nationally recognized leader in online education.