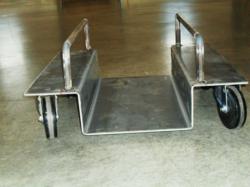 "Along with input from the New Jersey & Los Angeles facility managers, we designed and manufactured a piece of equipment to solve these unique delivery issues."
Rockleigh, NJ (PRWEB) May 21, 2012
The white glove home delivery of televisions that are seven feet wide is not an easy task. Small doorways, tight turns, long carry distances and stairs are just a few of the hurdles to overcome. Add into this mix the size and weight of the unit, as well as the manpower needed to do it right, and you have plenty of logistics issues to deal with.
Fortunately NVC Logistics Group, a nationwide transportation management leader specializing in the white glove delivery of high-value oversized items, was able to "fabricate" a solution to help overcome these issues.
"We've delivered quite a few of these oversized televisions to both homes and businesses. And our clients are selling more all the time," said Sean O'Conor, Director-NVC Central Region Operations, based in Bensenville, IL. "Standard equipment doesn't always work, given the weight and length of these items. With input from our New Jersey and Los Angeles facility managers, we were able to develop a better solution in handling these unique items," he said.
"We were able to design and fabricate a special sheet metal transport unit of high density strength to meet our needs" O'Conor said. "This unit helps us become more efficient during delivery, reducing total on-site time and manpower requirements. Depending on the unique delivery challenges we face, we have the flexibility to customize the unit by adding cushioning, blanket-wrapping the item, or stabilizing with straps. And, it can be used for any number of other products, applications or deliveries."
This isn't the first time NVC Logistics Group has developed delivery and logistics solutions for clients. As specialists in handling high-value oversized items, they have a wealth of experience and capabilities, and are a leader in the delivery of high-end items such as consumer electronics, furniture, mattresses, appliances, and exercise, medical, computer and office equipment.
"We appreciate the trust our clients show in us to provide customized solutions designed to handle their specialized transportation needs," said Bill Dugan, Vice President National Accounts.
About NVC Logistics
NVC Logistics Group is an industry leader in the specialized transportation and delivery of hi-value, oversized items to homes and businesses. They have a nationwide footprint, with service to every zip code within the continental U.S. Their "center of excellence" is the white glove handling of high-value oversized items. Other value-added logistics solutions offered include: strategic warehousing and distribution, field exchange, asset recovery and supply chain consulting. Their asset-based facilities are located in NY/NJ, Chicago and Southern California. For more information about NVC, call 800 526-3393 or click http://www.nvclogistics.com.