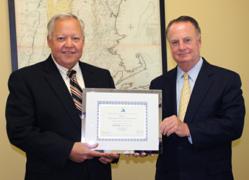 Pawtucket, RI (PRWEB) May 18, 2012
Narragansett Bay Insurance Company (NBIC) celebrated another milestone on May 14th, when Chief Executive Officer Nick Steffey congratulated Rogers & Gray Insurance for writing NBIC's 100,000th homeowner's policy.
The policy was generated out of Rogers & Gray's Kingston, Mass., office. Rogers & Gray is headquartered in South Dennis, Mass., and has eight branches throughout Cape Cod and Plymouth County.
"The 100,000th policy is a testament to Narragansett Bay's focus on being an insurance industry leader," Steffey said. "Since the emergence of the company in 2005, Narragansett Bay's employees and its agency partners have worked together to provide outstanding customer service that has resulted in tremendous growth."
"Our relationship with Narragansett Bay Insurance Company has allowed Rogers & Gray agents to offer homeowners incomparable insurance coverage at a time when too few companies were offering options," said Charles "Chuck" N. Robinson, President and Chief Executive Officer of Rogers & Gray. "We look forward to working with the company for many years to come."
Narragansett Bay Insurance was a subsidiary of the Pawtucket Mutual Insurance Company, which was the second oldest mutual company in Rhode Island dating back to 1848. Under Steffey's leadership, Narragansett Bay and Pawtucket Mutual became one company with a single focus on delivering a unique approach to homeowner's insurance.
Narragansett Bay provides each new policyholder with an in-home ShelterPride® appraisal, which is a personalized interior and exterior survey that helps ensure the customer has the correct amount of coverage based on replacement cost, is aware of critical safety risks and receives all deserved credits. With industry leading underwriting analytics and cutting-edge technology, Narragansett Bay offers consumers in the middle market a higher level of service above industry standards.
Narragansett Bay is licensed to provide homeowners coverage in Massachusetts, New Jersey, New York and Rhode Island.
About Narragansett Bay Insurance Company (NBIC):
Narragansett Bay Insurance Company, headquartered in Rhode Island, offers specialty insurance services and products to homeowners through an extensive network of independent agents along the eastern seaboard. Backed by highly rated reinsurers, NBIC has undergone a rigorous examination of its financial security and has received an "A, Exceptional" Financial Stability Rating (FSR) from Demotech, Inc., an independent financial analysis and actuarial services firm for property and casualty insurers.