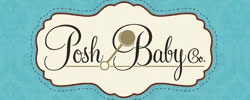 Beaumont, TX (PRWEB) May 20, 2012
For parents looking to find the very finest in children's fashion, Posh Baby Co. is the place to shop. Located in the Golden Triangle area, Posh Baby Co. is redefining how parents shop for stylish children's clothing by offering a distinct selection of the most stylish name brand clothing and accessories available today. Children's clothing no longer has to be bland and unimaginative. At Posh Baby Co. it is full of flair and style.
What sets Posh Baby Co. apart from the usual children's clothing stores in the Southeast Texas area is their impressive selection of name brand designers. With style experts traveling on a regular basis around the nation searching for the latest looks for children, Posh Baby Co. has created a collection of names and styles that can't be found anywhere else.
Among these many names is the highly regarded designer Persnickety Clothing a leader in children's fashion. Joining them are other children's style icons such as Twirls and Twigs and Tom & Drew. Style-conscious parents will recognize these designers for their outstanding work in children's fashion. Posh Baby Co. is proud to offer these name brand styles along with many others, including Girl and A Mouse, Joah Love, Bloch, Lelli Kelly, and True Religion. These are renowned designers that Posh Baby Co. is proud to have on board as they revolutionize the way people shop for stylish children's clothing.
In addition, Posh Baby Co. is proud to carry many one of a kind fashions from Splendid, Ella Moss, and Joy Follie who stand among the finest labels when it comes to children's clothing. With a collection that includes so many wonderful children's clothing designers, Posh Baby Co. Is giving parents in Beaumont and all of Southeast Texas a brand new way to shop for the latest styles in children's clothing and accessories.
About the company:
Since opening owner Erica Novak has been on a mission to change the way we look at style in Southeast Texas. She is on a mission to change the ordinary to extraordinary! Posh Baby Co. sits on a quiet street in Beaumont, TX but the hustle and bustle inside the store is anything but quiet! The store is alive with customers eager to see all the latest styles in baby and children's clothes, as well as home decor! Novak, mother of 3, is always on the lookout for the latest trends! She travels to Las Vegas and New York picking up original items. She's proud to showcase items that are unique and made by real moms! The store is acclaimed as an out-of-the-box stylish hot spot setting the standard for posh and stylish children in Southeast Texas! Visit Posh Baby Co. at 5955 Phelan, Beaumont TX or call 409-860-3331 to turn your child into a Posh Baby!