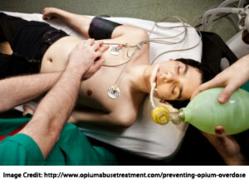 Canadian, OK (PRWEB) May 19, 2012
Recent figures from the Centers for Disease Control and Prevention (CDC) reveal the extraordinary loss of life to prescription drug overdoses is being suffered by families in some states. This report shows that New Mexico has the highest rate of overdose deaths and West Virginia has the second highest rate of overdose deaths. Unless there are more effective treatment programs like Narconon Arrowhead, we could continue to see a rise in these deaths.
It's not surprising that New Mexico is in first place. Mexican drug cartels are housed just across the border and have their eyes on this lucrative market. They have been known to recruit Mexican schoolchildren who cross the border to go to US schools to do their trafficking for them. Drug cartels also use ultralight aircraft to move products into New Mexican cities.
The New Mexico Drug Trafficking High Intensity Area report conducted by the Drug Enforcement Agency reported that many of the young people in this area who are abusing heroin first got addicted to prescription opiates. They may switch to heroin if they can't get the prescription drugs they normally abuse. Increases in prescription drug abuse both build the market for heroin and result in overdose deaths. New Mexican addicts are likely to commit prescription fraud, steal drugs or obtain drugs from friends. Admissions for treatment of prescription drug opiates have been steadily increasing.
When the Prospects are Grim, Families Need to Find Effective Rehab
Families who see a loved one losing everything to an addiction are often desperate to find a solution that works. But short term rehabs frequently do not provide enough time and treatment to result in lasting sobriety. And some families, going down this route two, three or more times, know that prescribing substitute opiates like methadone, buprenorphine or Suboxone most often do not result in the person learning how to live a sober life. Most of these families, in turn, are looking for something better.
Many families in both New Mexico and West Virginia, as well as the other states, have found their solution at Narconon Arrowhead, a long-term drug rehab program in Southeastern Oklahoma. In three to five months on average, an addicted person can find himself (or herself) sober again, with cravings much reduced or even eliminated, and restored life skills that enable him to make the right choices to continue that sobriety.
"The Narconon program started out offering help to heroin addicts inside the Arizona State Prison system in 1966," observed Derry Hallmark, Director of Admissions for Narconon Arrowhead. "We now help people all over the United States recover from addiction to opiates or other addictive substances. Since 1992, we have made sure to meet or exceed certification or accreditation requirements for both state and national agencies so we can offer families the greatest confidence when they trust their loved ones to us."
The Narconon Arrowhead program uses a combination of elements to reduce cravings and relieve the guilt and depression that routinely accompany addiction. There's a thorough detoxification process that uses nutritional supplements, moderate exercise and time in a sauna to activate the body's ability to flush out stored drug toxins. Also offered is life skills training to rehabilitate a person's ability to identify those associates who would derail one's ability to stay sober including those who would support sobriety. There's a training course that teaches a person how they can recover their personal integrity after the dishonesty and manipulation of addiction, among other services.
"Families who want to help a loved one recover from addiction to an opiate or any drug or alcohol should contact us immediately to find out how Narconon Arrowhead is different and how it can make a remarkable difference in the life of their loved one. Addiction is deadly. We recommend that families act now to prevent further tragedy," concluded Mr. Hallmark.
To contact Narconon Arrowhead and find out about their unique method of recovery, call 1-800-468-6933 today.