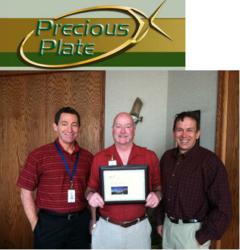 Russell dedicates himself to promoting safety, ensuring that all processes are safe...
Niagara Falls, New York (PRWEB) May 18, 2012
Precious Plate—an industry leader in precious metal plating—is pleased to celebrate the tenure of Ken Russell. Russell has worked for the company that specializes in electroplating services for 30 years, currently serving as Environmental Health and Safety Manager. He began working at Precious Plate in 1982, and since that time, he has maintained a proud and steady career with the company. Because of this, Precious Plate has honored him with a 30 Year Service Award.
Russell has been with Precious Plate for the majority of the company's existence, which has provided him with unique knowledge and valuable insight into the industry. As Environmental Health and Safety Manager, Russell dedicates himself to promoting safety, ensuring that all processes are safe for employees, clients and the world at large.
The award was presented at a special ceremony on Thursday, May 3. The ceremony was conducted by Dave Miller, Vice President of Sales and Marketing, as well as Scott Law, General Manager and Vice President of Operations. Russell's impressive career stands out as an example for other employees and as a testament to the integrity that defines Precious Plate.
Precious Plate is located in Niagara Falls, New York and has been a community staple since 1973. Since its creation, the company has worked hard to provide the best selective electroplating process. Among its many services, Precious Plate excels at providing plating services such as gold, silver, nickel and copper plating for a wide range of manufacturers. Because electroplating is such a specialized service, Precious Plate takes pride in working with clients to meet specific plating needs. The company's innovative techniques have helped reduce waste and minimize costs.
To learn more about Precious Plate and the electroplating services they offer, please visit preciousplate.com for more information.
About Precious Plate:
Precious Plate provides exceptional selective electroplating services by continually adapting electroplating equipment and processes to the specific needs of a wide variety of manufacturers. Precious Plate's electroplating equipment and selective electroplating processes can deposit precious metals with extreme selectivity, which reduces the amount of precious metal used in the electroplating process and ultimately the cost to customers. The company's goal is to provide ideal performance without compromise.