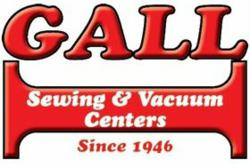 ...gift certificates are available in $10, $25 and $50.
Grand Rapids, MI (PRWEB) May 28, 2012
Gall Sewing and Vacuum Centers, proud provider of sewing machine repairs and vacuum repair in Grand Rapids, MI for more than 65 years, is now offering gift certificates, good for a diverse range of classes, repairs and all sewing merchandise in the store including the famous Memory Craft 12000 embroidery and sewing machine.
Gall Sewing is pleased to provide these certificates: "We're proud of the products and services we sell, and we're thankful to have such a devoted base of customers, so we wanted to make it easy for them to share their love of sewing — and reliable sewing and vacuum repairs — with friends and family. Our gift certificates give them this opportunity."
The gift certificates could be used to give folks a chance to learn to quilt like a pro in just four classes or help them take their first step toward opening their own business by purchasing an Entrepreneur PR-1000 or Quattro 6700D sewing and embroidery machine.
The gift certificates are available in $10, $25, and $50 denominations and are available both online and in any of Gall's four area stores. Gift certificates can be combined with sales and coupons. All new machines come with two years worth of free service, a 90-day satisfaction guarantee and free one-on-one instruction for as long as customers own the machine.
To learn more Gall Sewing & Vacuum Centers, visit the company's website at gallsewingvac.com or call (888)-363-1911. To find a sewing or quilting class that piques your interest, take a look at Gall's full calendar of sewing classes.
About Gall Sewing and Vacuum:
Gall Sewing & Vacuum Centers is a reliable one-stop shop for vacuums and sewing machines Grand Rapids and surrounding residents seek. For more than 60 years, Gall Sewing & Vacuum has brought top-quality vacuum cleaners, quilters, heaters, sewing cabinets and sewing machines to Michigan. Their pristine sewing machine line includes Janome sewing machines, Brother sewing machines, and Elna sewing machines to name a few.