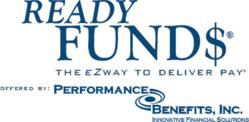 eZbenefits is yet another feature that gives employers a reason to choose the ReadyFUND$ payroll card program.
Centennial, Colorado (PRWEB) May 17, 2012
ReadyFUND$ announced today the launch of eZbenefits™, a new feature available on the ReadyFUND$ Premier Access® MasterCard Payroll Card®. ReadyFUND$ partnered with WellCard Health™ to offer eZbenefits to all ReadyFUND$ cardholders. With the addition of this new feature, ReadyFUND$ provides cardholders and their families a way to receive discounts on prescription drugs and a wide variety of other healthcare services. According to Doug Taylor, Executive VP of Sales and Market Development for WellDyne®, "We are excited to include our WellCard Health Program in the ReadyFUND$ eZbenefits for their cardholders. This is a very valuable service, particularly to those who may not have traditional healthcare insurance." eZbenefits is not an insurance program, but its discount features may be used by any ReadyFUND$ cardholder, those with or without an existing insurance plan.
Information about eZbenefits is provided online through the ReadyFUND$ cardholder portal and new Cardholders will receive their ReadyFUND$ card with their WellCard Health Program information printed right on the back of their card. Existing ReadyFUND$ card members can simply register at readyfunds.net and print their card online.
"eZbenefits is yet another feature that gives employers a reason to choose the ReadyFUND$ payroll card program. This is a great no cost employee benefit that employers can provide to their employees who may not have health insurance. "said Tim Birk, President and CEO of ReadyFUND$. Birk continued, "Even better, eZbenefits is also available for use by the cardholder's immediate family members, all through the employees' ReadyFUND$ payroll card and WellCard Health." eZbenefits is the latest addition to the eZsuite® of Financial Services, which already includes features like the eZsave® interest bearing savings account, eZrewards™ cash back rewards program, eZbillpay® an online bill payment portal and membership in the ReadyFUND$ Cardholder Community.
About ReadyFUND$: Established in 2005, ReadyFUND$ is offered by Performance Benefits, Inc., a pioneer in providing innovative financial services that make peoples' lives easier and help employers improve their bottom line. The ReadyFUND$ Premier Access Payroll Card and eZsuite of Financial Services enables businesses to convert 100% of their employees to electronic payroll and a "greener" way to pay.