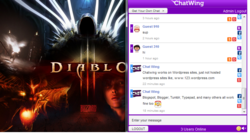 Cambridge, MA (PRWEB) May 16, 2012
The gaming world is now ready to roll with the release of Blizzard Entertainment's Diablo 3. This is the most anticipated game of 2012, based on the commentaries from different players all over the world. Lately, gamers and fans of the franchise have visited the Chatwing website chat lounge to discuss tips and strategies. To entertain the players, Chatwing's developers posted Diablo 3-related messages.
Different chatrooms were filled with Diablo fans, but Chatwing is the most noticeable. Some players have mentioned that Chatwing is a great chat engine because it can handle a large influx of guests and visitors. In fact, this is one of the strongest features of Chatwing: ability to connect the Internet crowd without too much lags. Lately, the Chatwing development team has added a Facebook integration feature in which users can log in with their Facebook accounts. It has been noted that this feature allowed users to find more friends in the long run. Many people have expected Chatwing's overall speed to go down because of Facebook, but no negative effect has been recorded.
Before delving into the perilous world of Sanctuary, Diablo players preferred chatting in Chatwing because tips are really needed. "We are really working round the clock now. After the release, we know that Diablo players will flock to our widgets. Some bloggers have already installed the chat box for their blogs. We are receiving many comments and inquiries from players too. This is really a gaming phenomenon, and we're glad to be a part of it," Says Ivan Diamond, a Chatwing developer and Diablo fan.
Easy installation of the chat widget is also one of Chatwing's core features. It has been proven that users don't like applications with complicated commands. Time is a precious commodity, so people prefer applications that can be installed easily. In the latest version of Chatwing chatrooms, registration takes only few seconds and there is already a high rate of customization.
About Chatwing.com
Chatwing.com has developed a shout box for bloggers. It caters to different online communities due to its high rate of connectivity. Everyone can create a customizable live chat box feature in 1 minute or less. Users have the ability to customize the size, color, and fonts of the chat product. The ability to chat via social media accounts such as Facebook and Twitter enable Chatwing to offer a personal and unique real-time experience to all sites. Chatwing is 100% free and very easy to use.