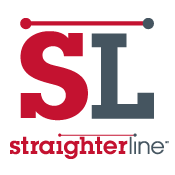 Summer is a great time to take classes to catch up, speed up or make up college course work,
BALTIMORE, MD (PRWEB) May 17, 2012
Solution now available for high school and college students in states with education budget cuts
In response to the news that increasing numbers of students are being closed out of classes they need to graduate, and that states have frozen transfers from community colleges to State colleges and universities, StraighterLine (StraighterLine.com) announced today that they have begun their "summer session". Now students can take StraighterLine online college courses during the summer to fill in gaps they need to graduate, advance their degrees, or just lighten up their schedule during the rest of the year. In addition, StraighterLine students can transfer their courses for full credit to a wide variety of partner colleges and universities, allowing students who may otherwise have their educations interrupted to continue their studies.
While the summer has not officially started in traditional colleges and universities, students are already getting their schedules set up for the summer and registering to take courses in the Sciences, Humanities, English, Math and Business. More and more are finding that as a result of state and local budget cuts, many community colleges have been forced to reduce the number of offerings leaving many students closed out of classes. Online education is fast becoming the preferred alternative to brick and mortar programs.
"Summer is a great time to take classes to catch up, speed up or make up college course work," says Josef Katz, VP, Marketing at StraighterLine. "Our students are never closed out of classes and our course schedule is never cancelled. Plus, because our courses are self-paced and online, students who need to work or have other responsibilities during the summer can still fit them in."
Students can take self-paced, freshman and introductory-level online college courses through StraighterLine, moving through the material as quickly or slowly as they like. With StraighterLine's affordable subscription pricing plan, students pay only $99 per month plus a registration fee of $39 per course and can save thousands of dollars on the cost of their college degree.
Compared to online courses from a typical college or university, StraighterLine's courses have been found to offer equal academic rigor but are more affordable and convenient. StraighterLine courses have been evaluated and recommended by the American Council on Education's College Credit Recommendation Service (ACE CREDIT). And while completion rates at some for-profit educational providers have come under scrutiny recently, ninety percent (90%) of successful StraighterLine students were either enrolled or had completed their degree program at the college that accepted StraighterLine's courses.
Currently, the StraighterLine curriculum offers thirty-eight entry-level college courses online including College Algebra, Precalculus, Calculus I, Calculus II, Business Writing, Introduction to Biology, Introduction to Biology with lab, General Chemistry I, General Chemistry I with lab, English Comp I, English Comp II, Accounting I, Accounting II, Managerial Accounting, Macroeconomics, Microeconomics, Business Statistics, Anatomy & Physiology I & II, each with a lab option, Medical Terminology, Introduction to Psychology, Introduction to Business, Introduction to Criminal Justice, Introduction to Nutrition, Introduction to Sociology, Western Civilization I, Personal Finance, United States History I, Student Success, Pharmacology I, Pharmacology II, General Physics I, General Physics I with lab and two developmental courses, with another 6 new courses slated for launch during the third quarter of this year.
About StraighterLine
StraighterLine has been recognized as a revolutionizing force in education by major news organizations and the U.S. Chamber of Commerce for offering students online courses that earn real college credit for just $99 a month. Fast Company named StraighterLine one of the "10 Most Innovative Companies in Education."
In order to facilitate the award of credit, StraighterLine has forged partnerships with leading accredited online colleges and universities. A student ultimately earns a degree from those institutions but realizes tremendous savings and convenience by starting with StraighterLine.
StraighterLine's courses are evaluated and recommended by the American Council on Education's College Credit Recommendation Service (ACE CREDIT). In addition to the dozens of colleges and universities with which StraighterLine has a direct relationship, more than 250 other schools are reported to have accepted StraighterLine coursework for transfer credit.
Currently, StraighterLine offers 38 entry-level college courses online in the Sciences, Humanities, English, Math and Business. 5 StraighterLine courses have been approved by The College Board to be listed as AP courses: AP Macroeconomics, AP Microeconomics, AP English Language and Composition, AP Calculus AB and AP Psychology. And dozens of StraighterLine courses cover the same subject areas as CLEP exams, making them acceptable alternatives to, or preparations for, those tests.
For information, visit StraighterLine.com or call 202-507-7020 or 1-877-str8erline (1-877-787-8375).